I was trying to get a perfect level with a small copter (250mm) indoor and while doing this I've observed some strange things.
I've made the 3 axis accel calibration, after that I started the save trim radio procedure to fine tuning the level.
I tried the autotrim function too, but indoor I prefer the savetrim for a more precise tuning.
In this log I was doing ONLY the save trim procedure, in the middle the position was already with a really small drifting. But for correcting a smal roll drifting I had to put a quite high roll trim (about 5 degres). In the final part you can see this happening with the roll raises while the aircraft was still fix keeping its position.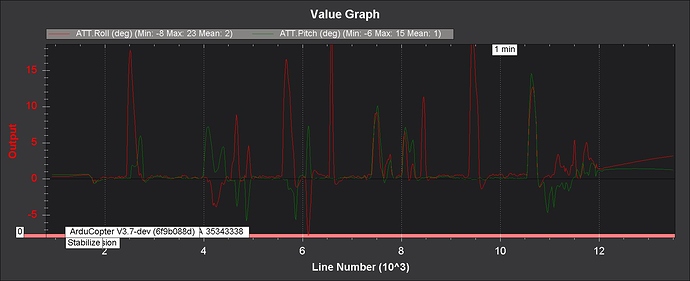 At the end I've saved this trims, and the console confirm the saved trims, bring back to 0 the trims on the radio, reboot.
The second log is the fly after reboot, and you can see already on the ground a not leveled roll. When the copter goes in its "perfect level" it flyes away so I repeatedly needed to bring it back in the center of the room. In the final part of the log I was keeping the quad leveled with the radio and you can see the offset on the roll and pitch.
first log / save trim https://www.dropbox.com/s/lqxpgbvk5qafoni/save%20trim%20procedure.bin?dl=0
second log flying after the above same trim https://www.dropbox.com/s/3uga1il0pmg7yrr/after%20save%20trim.bin?dl=0
From the observation I don't understand if I have a problem that in flying the perfect level is changing or the level change at the reboot. Because I've experienced various flights where the level changed a little bit in fly.
Maybe I have some wrong parameters which affects the IMU performance ?
I've tried the INS_ACCEL_FILTER at 20 and 40Hz without difference.
I'm also taking advance of a INS_NOTCH filter that maybe has to be fine tuned as well.
If I'll find a good level is it a good idea to set INS_TRIM_OPTION to 0 to prevent leveling on boot on uneven floor?
Thanks!