Having had a bad experience when testing my TRex 500 with 4-blade head and a Matek 743 board, due to a worn bearing on the motor causing excessive vibrations, I've now just run a 45-second ground test (not lifting off) with the new motor. Once the rotor is spinning at governed 1900 rpm the recorded vibrations appear to me to be very acceptable, but what about the peaks on startup and shutdown?
Seems to me that the vibration at startup is not a problem because I'll not be lifting off until the head is at full speed, but what about the vibrations at shutdown? If I land manually in Stabilised or Pos Hold mode, or automatically in RTL mode, will those vibrations cause the heli to become unstable at that point and potentially make it tip over with the blades still turning.
My Matek board is mounted with nylon bolts on the silicone grommets that came with it, in a custom housing which itself is attached to the heli's side frame with 3M foamy tape. A screen shot of the MP vibrations log is attached.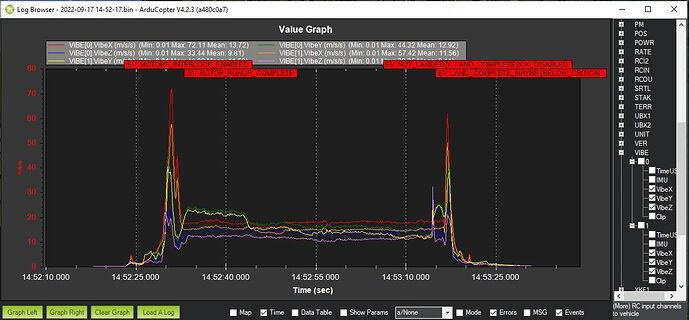 The full log file is here: https://drive.google.com/file/d/1nQiT-tTcprue_zYwHy_XMxAtORLt6ZjQ/view?usp=sharing