My large Hexacopter likes to keep me guessing. Some days it flies great, no EKF warnings, and some days it still flies great but EKF fluctuates during flight. the compass column fills up/ goes red. Yesterday I started receiving the following message on a flight "EKF2 IMU1 switching to compass 1" and then more switching. The aircraft was about 1 mile away at the time but still appeared to be flying normally. Error compass variance appeared on the HUD but wasn't recorded anywhere else. After seeing the compasses switching in flight I decided to RTL and then EKF messages cleared. back to low values in the EKF tab.
A second flight after a reboot had similar results.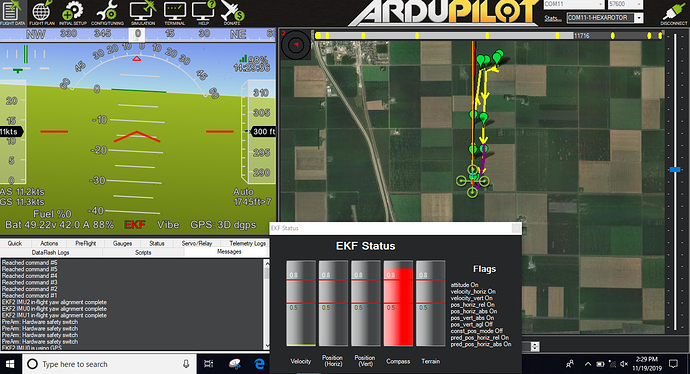 Bad EKF values usually started on the turn northbound
EKF cleared during first flight after changing heading during RTL.
Aircraft has a Pixhawk 2.1 running V3.6.10 (I know I should update). Here2 GPS Using compass 1 (external)and 2(Internal) 3 is disabled.