During the Canberra developers meeting a few of us (Leonard, Yamaguchi-san, Ebin and I) tested a high speed RC boat provided by
HobbyKing
and
HolyBro
. These are the details of the setup:
Below is a picture of the simple mission we ran at 10m/s (36km/h or 22mph). It's just four waypoints in a rough square with an RTL at the end.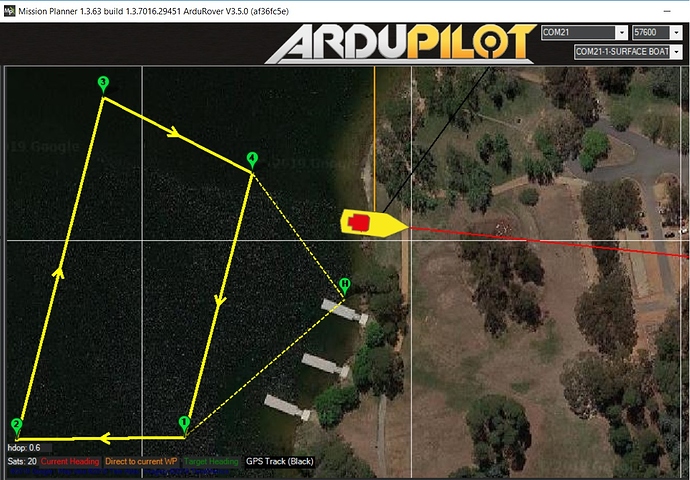 None of us had had much experience with high speed boats so we discovered quite a few things:
it's important to remember to plug the little hole on the back left side of the boat or it will fill up with water in about 10min
the boat begins to plane at about 4m/s and becomes more maneuverable than at lower speed. We should probably add a new parameter to Rover to allow the user to specify this speed and then we should modify the "lane based speed control" so that it never attempts to reduce speed below this when maneuvering around waypoints
when attempting to accelerate quickly cavitation was very noticeable. Reducing the default maximum acceleration (ATC_ACCEL_MAX) actually led to the vehicle accelerating more quickly because cavitation was avoided.
the boat leans over when accelerating and can turn right more quickly than it can turn left. This may be partially because the rudder wasn't trimmed perfectly but it may also be because the thrust provided by the motor naturally leads to an opposite rotation of the whole frame. I'm not exactly sure how to solve the problem but perhaps in the future we will try with a frame which has two motors spinning in opposite directions.
A parameter file is available here for those looking to replicate the setup.
By the way, to keep the electronics dry I cut a rectangular hole about 3cm x 10cm on the underside of the removable cover (which stretches from the blacked out windscreen at the front to the black hook-like knob at the back), then inserted the RC receiver, flight controller, GPS and telemetry radio, attaching them using 3M double sided adhesive foam. The 3cm x 10cm hole was then closed using duct tape. The battery power module was left in the main open area of the frame but partially protected from getting wet using a red balloon that came with the set (intended for use with the RC receiver).