EDIT: One of the two gyros is causing the issue, by forcing the pixhawk to use one the good gyro, I have not had the issue reappear in ~10 packs, here is the parameter. INS_ENABLE_MASK = 2 (#2 is the second gyro and the good one on my PHL FC, #1 is the first gyro). I still get bad gyro health warning on boot, but zero other warnings during flight or issues, thanks for the help guys!
I have a 250mm quad running AC 4.0.3 on PixHawkLite FC, now that I got it flying fairly well, sometimes not so good flights when in alt_hold or loiter modes.
Issues: works fine and then sometimes:
Alt-hold starts throttle pulsing up/down, you can see it some times, but you can definitely hear it (I checked vibes and they are ok).
Loiter mode, will be stable holding then after "warning EKF primary changed:1" just kicks the quads nose up ~5 degrees and starts moving backward until corrected with sticks.
The log attached is just sitting on a wood post out in the open, zero movement, power up and sometimes it gives warnings/etc, compass/mag/gyro/acc/baro all giving issues. If it was a sensor issue, I would not think all sensors would be bad. I have seen the gps glitch give the same pattern on the map over and over (something like a 7 to 12 pointed star, gps glitches wouldn't repeat a pattern, this seems like a code issue is my guess) while its just sitting, unarmed.
I have the yaapu telemetry on my x9d and when it gives this message "warning EKF primary changed:1" (it sometimes give gps glitch, error velocity variance) it starts flying bad in alt-hold and loiter, switch back to stabilize and its fine. A power cycle and its ok until it randomly acts up again (roughly 1 in ~3 flights). I have powered up and set on top of a wall away from all power lines/etc, let the gps stabilize (~15 sat/0.6 hdop) and I will get the above warnings without firing up the motors. I disabled the PHL onboard compass (SPI mag, now using the I2C mag in the GPS unit in stead of both). If I need to move the gps/mag higher, I will do that if you think it will help (if yes, how high?). The quad has never been crashed.
My quad has a 4n1 esc just below the PHL FC, and above that and 2 inches forward is the M8N gps/mag. The FC is soft mounted, I could try hard mounting it if you think that might help (has 6000 gyro). I have had the copter connected usb to MP and wiggled the wires/connectors and never get a issue. Included a pics to see if its a layout issue?
My main problem is I am not good at reading the dataflash logs, so many parameters plus the way the code fuses data/etc.
Could be a coincidence, "seems" like it was after the autotune, random weird stuff started happening.
Seems it might be a code issue,not sure.
Thanks for any advise to track down this issue!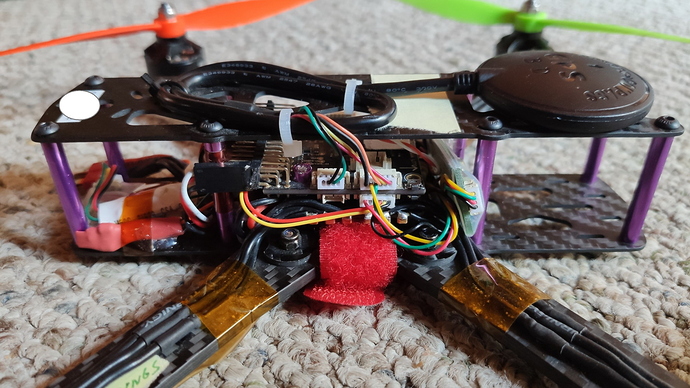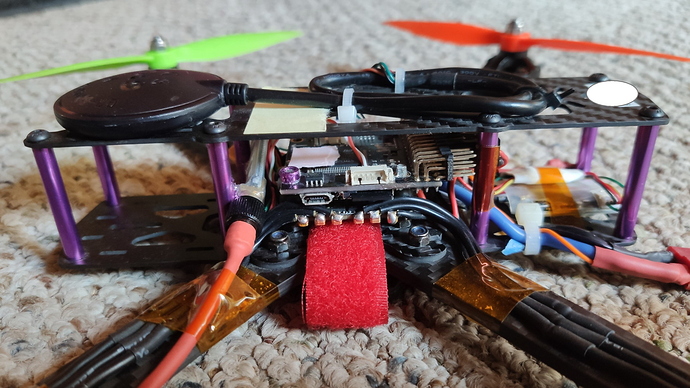 2020-09-11 10-41-13.zip
(532.9 KB)
2020-09-11 10-41-13.log.param.txt
(17.4 KB)