Thank you for that! Ill try to learn more.
Were there issues in the calibration values given by Mauch for the Hall sensors? I have a clamp meter at work and have been curious to check the current values in MP so I know battery characteristics better.
-Christian
No, the problems were mine. I had lost the Mauch data sheet (or they were flooded here a year ago during the flood). I have therefore tried to set the first values with the "battery recharge method" - probably completely incorrect (The batteries are only little used and the new charger probably adds up the charged mAh even when balancing between the cells).
The accuracy of the calibration of the clamp ammeter intended for low DC voltages is specified by the manufacturer as about 3%, which is sufficient.
I went hovering over the weekend. Basically, QSTABILZE, QHOVER and QLOITER works fine, only with the PID values for the pitch axis I am not yet I am not yet satisfied. Either the tail vibrates visibly or the tail sways up. The latter is too risky for me, if it swings up so during the back transition. In the next few days I will try this again and maybe use the script from Tridge (ardupilot/VTOL-quicktune.md at master · ArduPilot/ardupilot · GitHub) . I will report in any case.
Update:
After completing repairs on the motor arm I remounted the hinges using epoxy and then attached 3D printed reinforcement parts with new rivets. I updated the 3D parts with a little bit of curvature and rounded some edges for aesthetics mostly. The flanges that cover the hinge can be attached with short M3 bolts if desired or cut off entirely. Within the flange, there is a thinner cross-section that covers the hinge screw in case one needs to access it in the future. I tested the epoxy on the carbon fiber tube and aluminum separately beforehand to be sure that it would bond well.
Photo 1: Motor arm reinforcement parts.
I re-glued a few of the plastic aileron hinges that had come loose including replacing one that was damaged. The damage to the foam was repaired using Gorilla white glue and packing tape since the glue expands to fill the gap. The damage was before the end of the carbon fiber spar so I glued/filled the foam first then decided that a reinforcement (wood skewer or carbon fiber spar) was not needed.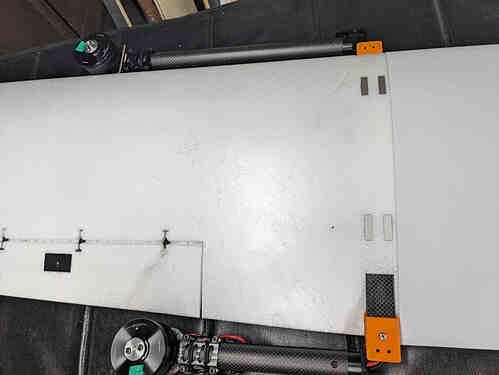 Photo 2: Motor arms mounted top view.
I had to trim a bit of foam to get the 3D printed pieces to sit in properly though it was minimal.
Photo 3: Motor arms mounted bottom view.
I did some test flight hovering after these repairs and everything behaved great. I did manage to toast the VTOL LiPos (hot/puffing) somehow so I ordered new ones of higher quality (Tattu). Once weather looks good here again I'll be out doing more hover tests to work on PIDs and then notch filters if needed.
Cheers,
Christian
Hi Christian, long time…our fighter has been on the shelf for a while as well…too busy with other projects, but once it gets cooler out and our sampling and bathymetry work is complete for the year we will dive back into this. Are you still planning on using the fighter as a platform for the magnetometer, or are you outfitting it with a multispectral sensor? Just curious as a longer duration mag survey kit is still very appealing. Best of luck.
Hey Ian,
Hope things have been going well for you!
I still plan to use the magnetometer sling on the Fighter. Currently it is set up for our multispectral camera which is easier to manage for the initial test flights, sort of a "step one" in the process. I am drawing up some removable landing gear posts so that the magnetometer cable has room to lay freely on the ground under the Fighter when launching/landing. I'll share my logs/stats as I march along.
Cheers,
Christian
Hey everyone,
Has anyone found a pitot tube (store bought) that fits the Fighter's wing (approx 6"/150mm)?
If I make my own using a 2mm or 3/32" tube, what size holes should I drill? Is it ok to have just one tube?
Thanks!
The common pitot tubes all fit when you push out the plastic tube. See my pictures there: Fighter VTOL 4+1 fixed wing - #575 by Rolf
I cannot say how good the single-tube solution is, where the static pressure is measured in the chamber for the sensor, because I take both pressures from the double-walled Pitot tube.
Rolf
Thanks, Rolf!
One of the other things that caught me by surprise, is that the VTOL motor/ESC mounts weren't tightened down onto their CF arms at the factory. Other than using a digital level, is there a trick to getting them all perfectly level?
A level was difficult to use for me. I instead used an aluminum straight edge (cutting guide for plywood sheets) laid across the top of the left and right motors with props on to check the angle of the motors. You can easily see if the props are parallel to the straight edge and can measure the difference if you want. I did this for the front set and then the rear set of motors. Having them level is the goal and in Arduplane docs it is suggested to have them tilted inward 5° for better yaw control if required for your VTOL. Just make sure none of the props/motors tilt outward.
Put some locktite on those screws too.
Cheers,
Christian
I did it similar to @Christian_H and used an aluminum L-profile. However you set it up, you can see the result when hovering (in still air) according to the wiki Tuning Process Instructions — Plane documentation in the logfile at the RATE YOut value, which should be below 0.1.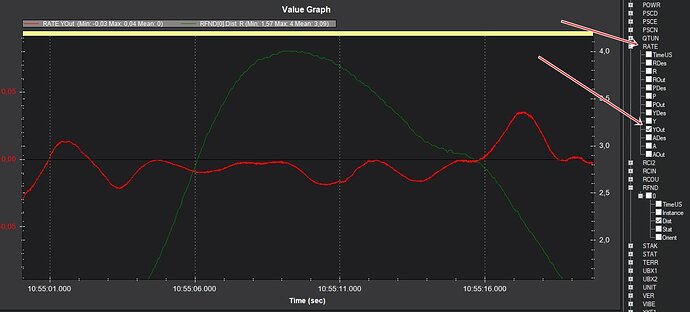 Cheers
Rolf
Thanks Christian and Rolf!
I have a digital level showing up tomorrow and an IBeam level a few days later.
I'm curious if anyone here used the 5° inward tilt for their Fighter? We'll most often fly in the 6000-9000 foot MSL range. Often in windy conditions.
Thanks!
someone has flutter problems, I'm having it.
Hi Rocio,
welcome to the forum and to the VTOL area.
A more detailed description (fluttering while hovering or in airplane mode ?) and especially a link to a logfile would be essential for help.
Rolf
Hello, I'm asking someone to give me a hand, I can't find a way for the plane to keep my height and constant throttle in auto modes. I notice that it lowers height and raises the accelerator then raises and lowers it and so on all the time. I also notice that it is not stable in flight. In FBWA mode, this does not happen to me, once the little in my cruising speed that is 19m/s works fine.
Flight lod attached.
https://drive.google.com/drive/folders/1pfBiyVzaiOflpB2_rAFXBoWUrn7lIrQr?usp=sharing
Cheers
Alfredo
Hi Alfredo,
the oscillatory change of potential energy (flight altitude) with kinetic energy (flight speed) with low frequency and very low damping is called Phugoid in aviation.
Your logfile is a good example: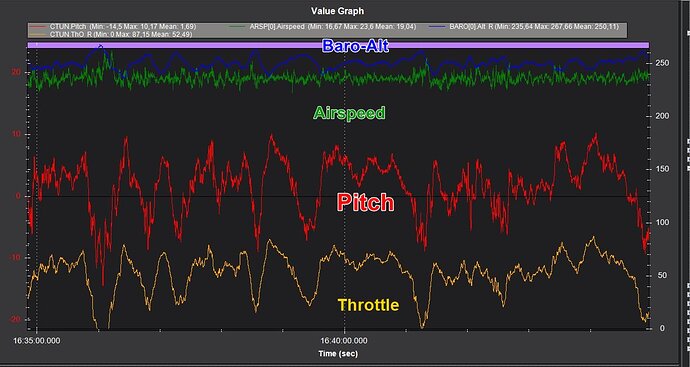 In man-carrying aviation it is known as a consequence of incorrect trim of the elevator in level flight. My experience with my model airplanes is that it is no different than the big ones and the elevator trim is not in actual center position: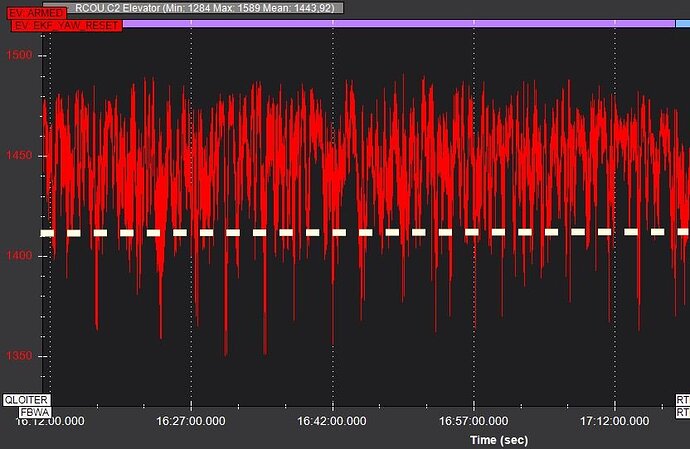 I would adjust the elevator servo trim (SERVO2_TRIM and SERVO9_TRIM) to the actual average values flown in level flight. Then the phugoid oscillation should become significantly lower.
It would be nice if you would occasionally report if the trim changes have brought any improvement. Because I can't find other causes for this or similar oscillations (bad autotune, bad throttle regulation, badly adjusted airspeed sensor) in your logfile.
Rolf
Hello,
We have replaced the mfe motor and esc with
Tmotor V505 260kv and 60A flame esc
But with same parameters fighter is not flying stable.
Facing lots of twitching movement.
Did you redo the PID tuning after changing hardware?
The oscillations look like a tuning issue after you are above 1 m (away from turbulence created by the wings and props close to ground). Also check that all motors are aligned and level or slightly inward (5 degrees) and all hardware is fastened securely.
Let us know if that resolves the issue.
-Christian
Thanks, @Christian_H
The issue is Resolved. I think the power of the motor I was using was too much. I replaced the motor with the mad motor. now it is flying stably.