Some intro. first. I am brand new with drones and electric motors. For many decades I have flown nitro and gasoline planes (0.35 to 110cc) and helicopters (450 to 900) without autopilots; only gyros for the flybarless heli heads.
The frame kit is a X500 with the following components.
Matek H743-Slim V3 FC
Matek AP_PERIPH GNSS M10-L4-3100 (GPS+Compass+Barometer)
MATEK PDB FCHUB-12S
mRo Sik Telem. radio v2
4S2P 5600 mAh lipo
T-Motor F35A 32bits 3-6S ESC
iFlight 4pcs XING 2806.5 1800KV
HQProp 4pcs HQ Macroquad Prop 9X5X3 Tri-Blade Propeller 9 inch CW/CCW
After going through Arducopter's "First time Setup" and "First flight and tuning" multiple times as I am familiar with helis gravity is ******* (lol) as they do not have wings do glide.
I believe the FC, GPS, Comp. and Bar are operating properly as I had no-propellers testing RC, telemetry, motors, failsafes etc. I put on the props and brought it a low hover for a few seconds looking very, very stable. Then I tried little longer and it went to failsafe with "Battery low voltage" and engaged RTL which worked perfectly, gained a few feet of altitude and then came to a very soft landing at the same take-off spot; failsafe is working!!!
I matched the PWM (min/max) from the RC Calibration to the BLHeli32 configuration (1003 - 1996) for all the ESCs.
The questions I have are:
For the configuration (see above) should I decrease the BATT_CRT_VOLT (14), BATT_LOW_VOLT (14.8)?
Did the combination of the motors/props is wrong for this X-quad size?
Do you match the throttle PWM of the RC with the ESC?
Using Dshot600 and I can not run the calibarion procedure for these ESCs, yes?
I setup the MOT_SPIN_ARM 0.04 and MOT_SPIN_MIN 0.07 but I do not get these speeds during arming/spin-up. Props rotate almost twice as fast from these values.
Anything else I should check?
I have attached the graph from that short flight.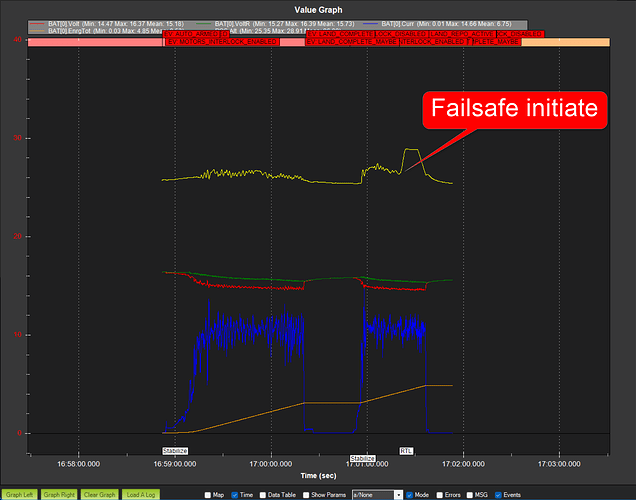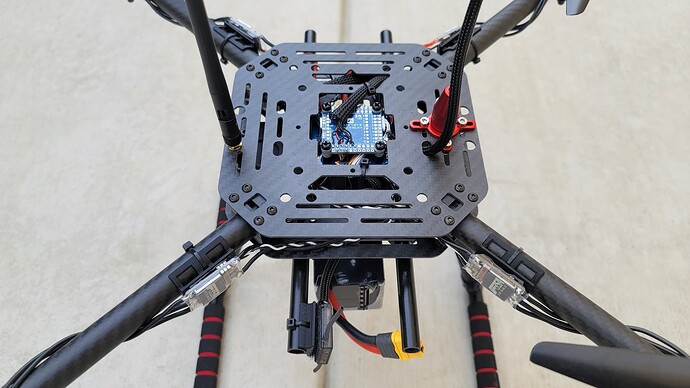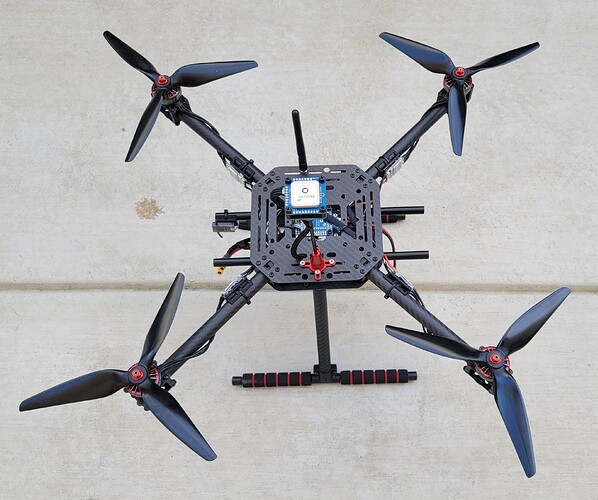 I tried to upload the log file which is only 1.5 MB but got an error that cannot upload anything larger than 3.3MB…