Helo guys,
I have normal fly (Delta wing) with FBWA mode without Airspeed sensor . But when i switch to FBWB, Plane will increase throttle and pitch up, It's not hold alitutude although speed is greater than TRIM_ARSPD_CM. I think TECS have problems.
TECS para:
TECS_CLMB_MAX,4
TECS_HGT_OMEGA,3
TECS_INTEG_GAIN,0.1
TECS_LAND_ARSPD,-1
TECS_LAND_DAMP,0.5
TECS_LAND_IGAIN,0
TECS_LAND_PDAMP,0
TECS_LAND_PMAX,10
TECS_LAND_SINK,0.25
TECS_LAND_SPDWGT,-1
TECS_LAND_SRC,0
TECS_LAND_TCONST,2
TECS_LAND_TDAMP,0
TECS_LAND_THR,-1
TECS_OPTIONS,0
TECS_PITCH_MAX,9
TECS_PITCH_MIN,0
TECS_PTCH_DAMP,0
TECS_RLL2THR,10
TECS_SINK_MAX,5
TECS_SINK_MIN,2
TECS_SPD_OMEGA,2
TECS_SPDWEIGHT,1
TECS_SYNAIRSPEED,0
TECS_THR_DAMP,0.35
TECS_TIME_CONST,5
TECS_TKOFF_IGAIN,0
TECS_VERT_ACC,7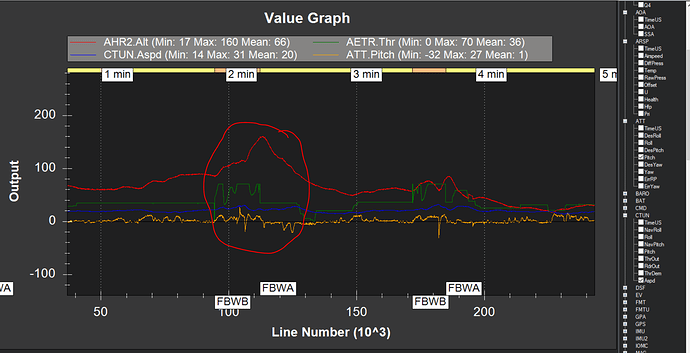 This is info about my flight:
Is it possible to resolve this issue by changing FBWB_ELEV_REV = 1? (currently FBWB_ELEV_REV = 0)
Hope some advice about my problems?
Thanks a lot.