I have a Sawppy rover which I'm in the process of setting up with Ardupilot. The frame has six wheels with independent drives, four of which steer. I've created a Lua script for the motor control and that is working well in simulation.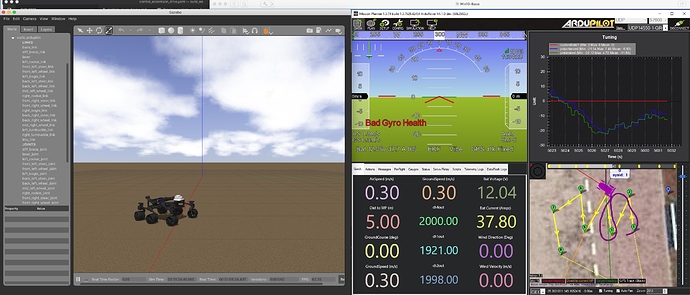 My question is how to best signal to Ardupilot that this frame supports pivot turns?
From what I understand skid-steering is enabled by assigning two of the SERVOX_FUNCTIONS to 73 and 74 which is tested for in AP_MotorsUGV::have_skid_steering. In my case the SERVOX_FUNCTIONS are set to the scripting values 94,…,103 so the controller code doesn't know that the vehicle can turn in-place.
The Lua script uses the normalised control outputs CONTROL_OUTPUT_YAW and CONTROL_OUTPUT_THROTTLE with a mapping that the turning radius varies from [+inf, 0] as CONTROL_OUTPUT_YAW varies from [0, 1] (and reverse for negative steering). The throttle is managed independently, so the angular speed of the in-place turn varies from 0 to the max yaw rate.