On my last flight with ArduCopter 4.1.0-beta3 running on Pixhawk Cube Orange, I had a strange behaviour. Fortunately no crash but propably critical.
It began with an EKF3 lane switch, after the "canonical" altitude behaved strange while the copter was in a descent phase. Baro and GPS altitude changed as expected but POS.Alt (the canonical altitude) did not change. You can see it marked here:

Magnified: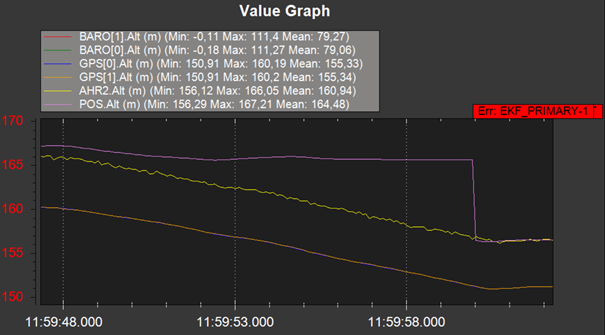 The copter software seemed to realize this discrepancy which resulted in an EKF3 lane switch. You can see it here at 11:59.937:


As this happened during a guided mission, I decided to terminate the mission, switch back to PosHold and after that return with RTL mode.
After the vehicle safely landed, things got even worse. Horizontal position was jumping on the Mission Planner map accompanied by messages like "PreArm: GPS and AHRS differ by 32.0m" (with varying distance).
Here you can see a screen recording:

If you look at the POS.Lat, POS.Lng and POS.Alt values you can see these going mad:


Altitude already varied between -5769.93 and +717.38 meters…
The canonical position deviation propably was caused by ATT.Pitch and ATT.Roll going mad as well after landing:


The copter was sitting on good leveled pavement during the whole phase after landing and was not touched. If you look at the Gyro data from all three IMUs, there is no reason visible why ATT.roll and ATT.pitch drifted away.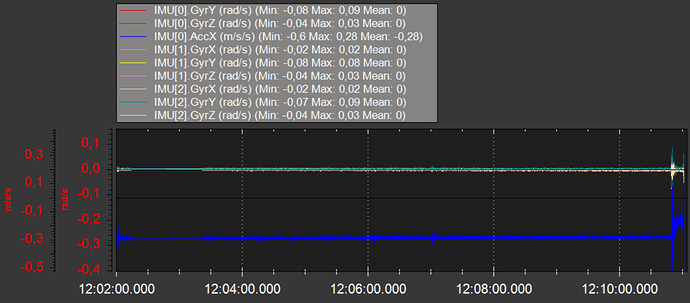 Fortunately the very strange things only happend on ground after landing but the POS.Alt issue and the EKF3 lane switch in flight were already frightening enough.
So the question is:
Was this caused by a defective Cube Orange or by bugs in Copter 4.1.0-beta3. I am using the "GPS for Yaw" feature but I do not see a direct dependency.
Wheather was sunny and warm (about 27°C air temperature). The barometer temperature was around 55°C during that phase. In my opinion nothing scary (Pixhawk autopilots seem to work at operating temperatures up to 85°C.
You can download the whole logfile here: https://kopterkraft.com/downloads-static/2021-06-09%2011-55-03.bin