Hi everyone.
I took off the drone by Stabilize mode and switched to AltHold mode. After a few seconds, the message "EKF3 lane switch 1" appeared and the quadcopter tumbled in the air and fell.
the flight controller is a cheap Pixhawk 1.
when I was analyzing the log, I saw a change in EKF1 that makes the copter unstable. In fact, when the autopilot switches from lane 0 of EKF1(or XKF1[0] in the log) to lane 1 of EKF1(or XKF1[1]) because of bad GPS data, the copter becomes unstable and got crashed.
The figure below shows the value of the pitch angle for two lanes of EKF3. It can be seen that the second lane of EKF had zero values from the beginning of the test.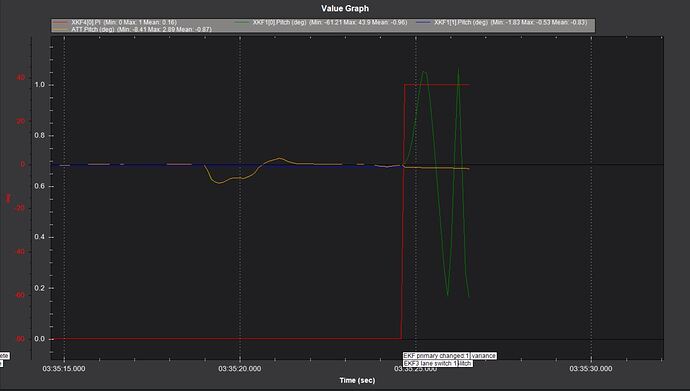 By checking the IMU data, I realized that the 2nd IMU (IMU[1].GyrX,Y,Z) had zero values since the beginning of the flight, which is clear in the figure below: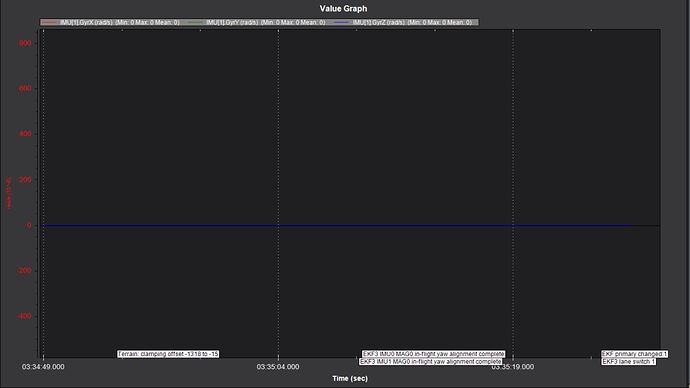 It looks like the second EKF's attitude estimate went bad because the 2nd IMU became unhealthy. But we can see the IMU.GH and AH (gyro health and accelerometer health) did not change to zero.
I would really like to know if this is a bug in EKF3 affinity switching or a consequence of using a cheap flight controller.
Now the question is, why didn't the autopilot give a pre-arm before the flight that the gyroscope was unhealthy?
Or why did the autopilot not realize that the second lane of EKF3 had a problem?
As I know EKF3 affinity use lane-switching to select the lane which has the best-performing combination of sensors. But why was the best lane not chosen?
Your support in this discussion is greatly appreciated.
Thanks!
The dataflash log for this flight is here: https://drive.google.com/file/d/1G4DvydQEjGS96zOHJaS0EiUXv5xB-cx8/view?usp=sharing