ESC/Motor Setup not working. I would greatly appreciate any assistance please. Info on current setup and specifics on issue are as follows.
Attempting initial setup of Arducopter with
ver 4.1.0 on Matek H743 Mini flight controller (H743 firmware)
ORI32 4-in-1 ESC (BLHeli32)
Using Mission Planner 1.3.74
Radio Cal complete & successful
Accelerometer Cal complete and successful
Compass Cal complete and successful
Moes Setup complete and successful
Mission Planner Motor Test does nothing (a couple beeps but motors don't spin). Tried increasing % from 5 to 10 to 15. Nothing changed. Attempted test with LiPo battery as power (not connected to computer with USB). Get first 3 ESC tones but not the last two (the last two indicating if throttle signal is detected). Have tried different JST wiring harness from flight controller to ESC. Same thing happens.
I've got an Arm/Disarm switch setup as an Auxiliary function on channel 5 (due to ExpressLRS protocol requiring Ch 5 for Arm/Disarm). I have therefore assigned Modes to channel 6.
Attempted to connect to BLHeli32 configurator (which I normally use for my Betaflight firmware quadcopters and am somewhat familiar with). Com Port 14 comes up as Ardupilot MAVLink
Com 15 comes up as ArduPilot SLCAN
Have tried both of these. Is the comport supposed to be showing a different driver for the com port?
SERVO_BLH_PORT = 0
Com 14 returns the following results in image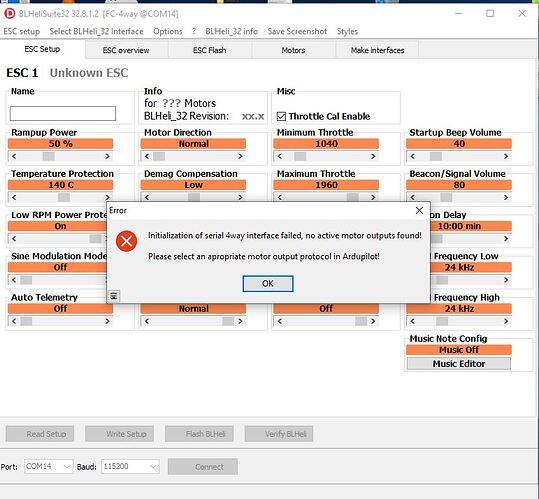 ESC/Motor Parameters set:
SERVO_BLH_AUTO = 1 (for automatic motor mapping)
MOT_PWM_TYPE = 6 (for DShot 600)
SERVO_DSHOT_ESC = 1 (to allow DShot commands)
SERVO_DSHOT_RATE = 1
SERVO_BLH_TRATE = 10 (default)
SERVO_BLH_POLES = 14