Hi Folks, Second Post (after extensive reading on all the Dshot extensive Dshot documentation on Ardupilot Home and Discourse, a stupensous job!)
DShotESCs are just not getting recognized
Build: Cube Orange, MP 1.3.80 - build 1.3.8479.20539 - Arducopter V4.4.0(502702df) - Here3 GPS. 20A Favorite LittleBee BLHELI_s.
Since Dshot is not supported on MAIN Outputs and Aux1 does not support Bidirectional Dhsot, configured Servo10_funtion to Servo13_Function to 33-36 for Motors 1 - 4
ESCs were updated using to BLHeli_S Dshot with Blue Jay using the esc-Configurator. Screenshot of the succesful firmware below
mot_pwm_type to 6 from 0 for Dshot600
I bench tested the ESCs using Pixhawk 2.4.8 (using Pixhawk1 Firmware) in Dshot mode and was able to spin the motors using the Motor test.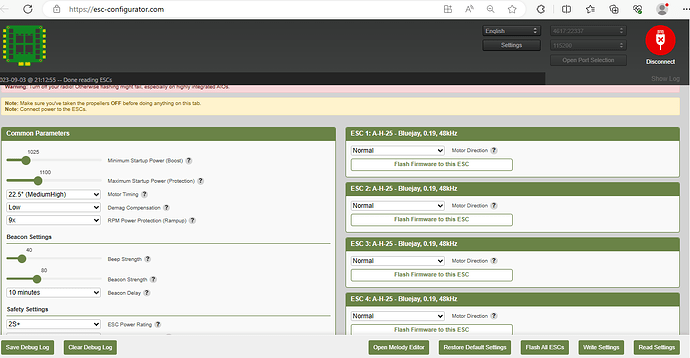 .
Attached are the params for bench test and cubeorange. Any Ideas?
PixBench.param (16.4 KB)
Sep12_2023_Cube_Orange.param (17.5 KB)