If I send my drone upwards at high speed, I see it rotate unexpectedly after a few seconds, usually by very roughly about 180 degrees. It remains at its new orientation after I stop ascending.
I have 2 compasses - 1 in the Pixhawk, and 1 external compass that is mounted below the quadcopter at least 15cm from the nearest noise source.
I have the log available here; download the zip and extract using my username as the password.
I did an auto analysis of the log and MP told me:
Test: Compass = FAIL - WARN: Large compass offset params (X:259.56, Y:281.75, Z:-268.91)
WARN: Large compass offset in MAG data (X:259.00, Y:281.00, Z:-268.00)
Large change in mag_field (41.86%)
Max mag field length (566.57) > recommended (550.00)

I also have a screenshot of Yaw vs. DesYaw (red line is desired yaw):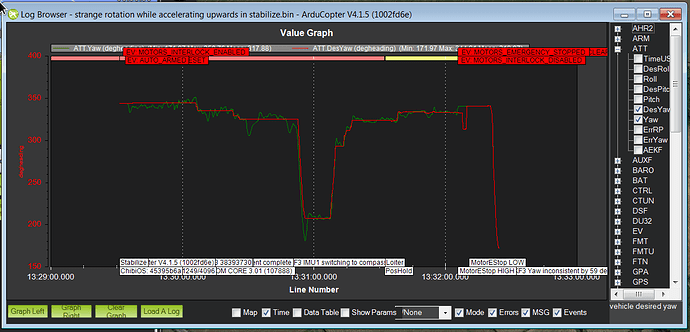 There seem to be some "switching to compass" messages too which are concerning. Here is my compass setup in MP: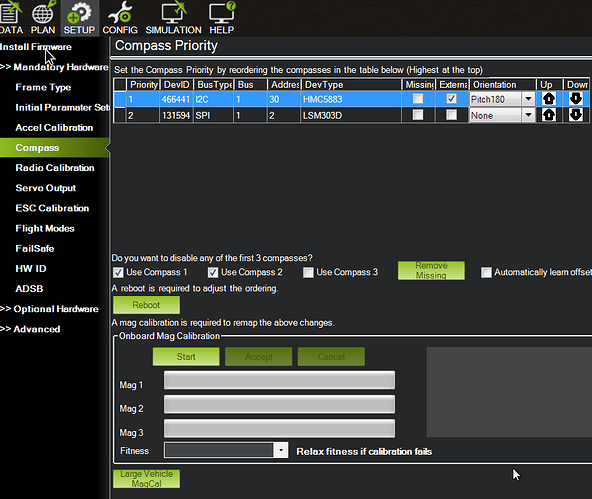 My other drone has the internal compass enabled and flies fine. Should I be disabling the internal compass here? The internal Pixhawk compass is located right next to the battery so is subject to a lot of noise.
Many thanks.