Crash today with my Pixhawk1 Y6,
I need help with this crash analysis. Recently I changed my Lidar Lite V2 from PWM to i2c, got it to work with minor difficulty. After I noticed the dataflash log reported data from the Lidar even when it was out of range, or over the max altitude. As expected, the data becomes intermittent when beyond the expected range of the device. I posted the question on facebook page but had zero response. I concluded that the values may not be used by the flight controller just because the log recorded these values. Now I need to know the truth.
Today the flight was as expected until I reached 20m, that's my max alt setting for the Lidar. Then I had an uncontrolled acceleration up to 400 feet, and nearly no response to my sticks. changed flight modes, regained some control, and ended up with a severe hard landing that resulted in hundreds of dollars in damage. My principle question is "how do I avoid this in the future?"
See below the plot of baro alt (the only correct reading) vs Lidar alt (over 20m data starts defaulting to zero) vs ctun alt (the alt the gps is using) vs. gps alt
It looks like the zero reading from the Lidar is being used by the ekf regardless of the fact that its over the max altitude. Ctun Alt is at or below zero when the craft was at 400 feet!!
Eventually it came down very hard with my throttle at max.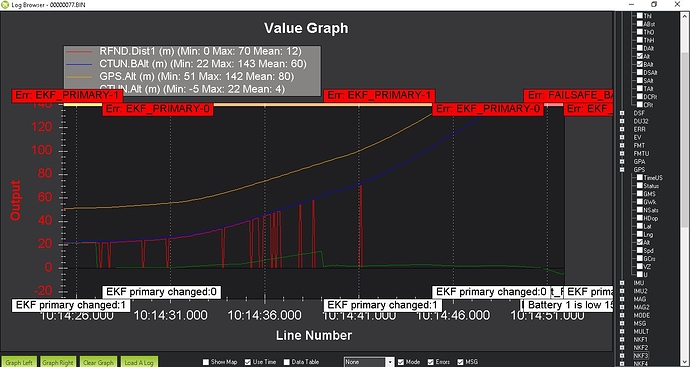 Dataflash log file: https://1drv.ms/u/s!ArlNBOsvq-8yomOBnKfSIqLfvwfG
Any advice would be very appreciated. Not sure how to proceed.
Thank You