Hello, I have a Holybro NEO-M8N Pixhawk 4 GPS module that I want to connect to my laptop and read the output (NMEA sentences hopefully). I have a CP2102 USB to TTL bridge, I connected the 4 pins (5V, GND and TX/RX) correctly according to the pinout of the GPS and plugged the USB to my PC.
It looks like this: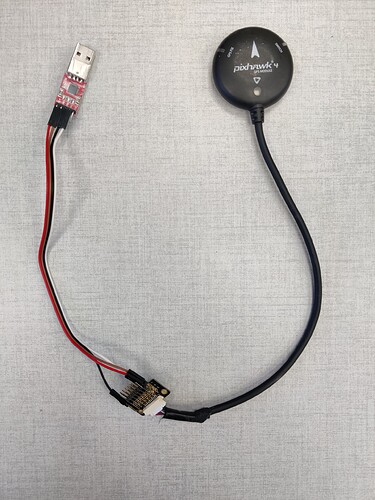 I then use PySerial to connect to COM8 with 38400 baudrate, yet I see no output. I don't even know if the GPS is on since the LED is not blinking (I guess it shouldn't since the LED pin is not connected?), but I know I'm in a good spot to get a fix because I used it through a Pixhawk without any problem.
Do I need to connect all of the 10 pins to get it to work? Is it only possible with the separate NEO-M8N GPS? or am I missing something else?
Thank you in advance.