Hey everyone,
So I'm currently setting up a companion computer precision landing setup using fiducial markers and I'm getting mixed success and I'm wondering if anyone can help me make that into a non-mixed success.
The basic description of what I'm trying to do is land a drone from an altitude of roughly 50ft using a large fiducial marker (~1m x 1m.) The marker is large enough that the camera is able to see the tag at these high altitudes and give accurate positioning data.
I'll start with the success… It works! but only in the last 10-15 feet of the landing. The non successful part happens at above 10-15 feet. You can observe wild oscillations when the drone (Tarot x6) sees the marker and is trying to position itself above the marker.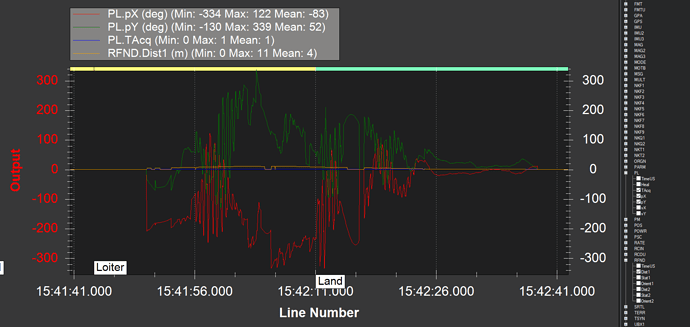 I have scrubbed through all of my code to assure that I am passing all of the data the firmware is expecting correctly and in the correct axis frames. I am sending the firmware angle.x angle.y and distance (magnitude of xyz to the tag.)
My initial thoughts at this point is that this could be a tuning problem but honestly I'm not positive at this point and would like some input from the experts (that's you guys.)
Any thoughts would be greatly appreciated. Params are attachedTarot_PrecLand.param (14.9 KB)
Logs: https://www.dropbox.com/s/iu0ch7gxnnchwx0/2020-05-20%2015-32-16.bin?dl=0