Hello,
I am having an issue with the Mission Planner plugin function. Previously, I was able to display several assigned takeoff locations on the flight planner map screen in Korean, as shown in the first image below:
However, after an mission planner update today, the characters are now broken, as shown in the second image below:
I believe the previous version I used was 1.3.79, but I am not entirely sure. Regardless, the previous version was a recent version as well.
I suspect that something may have changed in the language preferences on Google Maps API during the update. My plugin code is as follows:
var location7 = new GMap.NET.PointLatLng(xx.xxxxx, xx.xxxxxx);
var marker7 = new GMap.NET.WindowsForms.Markers.GMarkerGoogle(location7, 
GMap.NET.WindowsForms.Markers.GMarkerGoogleType.blue);
marker7.ToolTipText = "이륙지 이름";
marker7.ToolTipMode = GMap.NET.WindowsForms.MarkerTooltipMode.Always;
marker7.ToolTip.Offset = new Point(-50, 10); 
marker7.ToolTip.Font = new Font("Arial", 7, FontStyle.Bold);
marker7.Size = new System.Drawing.Size(25, 25);
takingOffPositionOverlay.Markers.Add(marker7);

In addition to the first issue, I have encountered another problem. After changing my settings to Korean, the "language setting" option disappeared, and I am unable to switch back to English. I have attempted to select English options to resolve the previous issue, but to no avail. Please refer to the screenshot below: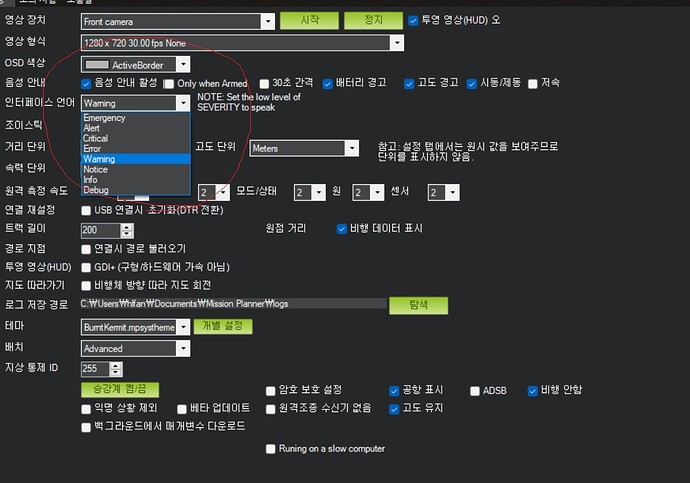 In the screenshot provided, the red circled option, which reads "인터페이스 언어" in Korean, translates to "interface languages" in English. However, there are currently no language options available in the menu. Instead, only "Warning" and "Notice" options are present.
Thank you for your assistance in resolving these issues.