Yesterday, I tested the quad in stab, althold and loiter mode, and high wind conditions. In stabilize and althold is controllable by the pilot, but in loiter mode the drone oscilated in both axes (roll, pitch). The hardware:
-custom frame 1280mm
U8 motors 135Kv
2x6S 16000mAh = 12S battery
ESC 120A-HV turnigy
PIXHAWK firmware 3.5.5
22x6 T-motor propellers.
total weigth (included gimbal) 9.5Kg
In the flight it was used the autotune parameters, with a little adjustments in accelerations for the auto mode (Pitch axis Oscillation in auto mode, big copter)
The wind speed was 7mps with gusts until 13 mps.
Some parameters and data from logs.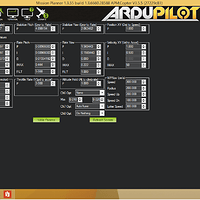 The .bin file:
https://drive.google.com/file/d/1-bePgfxpPIId61n9GhgGlTqAzZvkL-Wt/view?usp=sharing
Maybe it needs a PIDs adjusment, any suggestion is welcome.