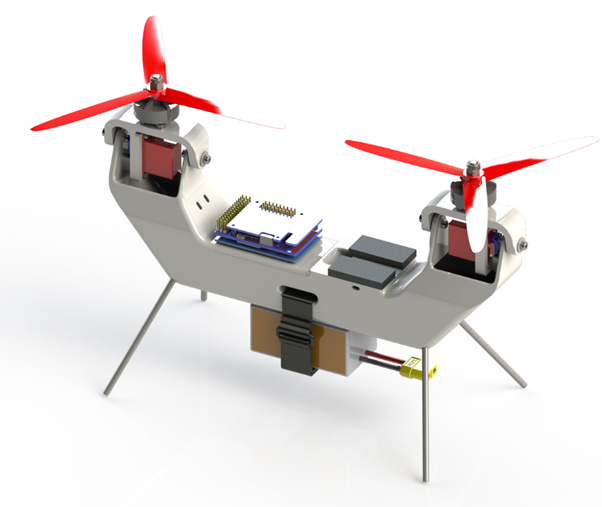 A little while ago I posted a blog about a coaxial copter design and build (https://discuss.ardupilot.org/t/design-and-build-of-a-coaxial-drone) that turned out to be quite the handful when it came to tuning. The main reason for the difficulties I was facing was the gyroscopic forces involved in tilting a motor/prop combination to do thrust vectoring. The next logical step was to move to a design in which these gyroscopic forces from one motor/prop are (mostly) cancelled out by equal and opposite gyroscopic forces of the other motor/prop.
The design I settled on was this bicopter, similar to a V22 Osprey, the layout of which is supported in Arducopter. The control system is pretty self-explanatory; to pitch forward, the servos tilt both motors forward; to roll left, the right motor increases in rpm and the left motor decreases; to yaw left, the right motor tilts forward and the left motor tilts rearward. There are some control characteristics which make tuning such a layout a little tricky though:
Rolling the drone causes unequal thrust and therefore unequal torque of the motors, resulting in a slight yaw.
Pitching the drone forward doesn't invoke any gyroscopic forces on the airframe because the gyroscopic forces from the right hand motor are cancelled out by the gyroscopic forces of the left hand motor. However, when yawing, the gyroscopic forces combine instead of cancel, resulting in a slight roll of the aircraft. I have found this effect to be negligible though.
There is some other cross-coupling of pitch/roll/yaw if the drone isn't balanced correctly but I won't go into details.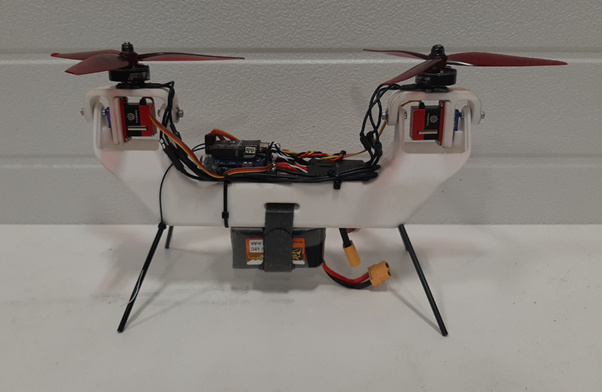 The design of this drone isn't quite as polished as my previous efforts as I wanted to prove the concept out a little more first. However, I will still post all the files including 3d printable files, parameters and parts lists up to now here: https://www44.zippyshare.com/v/ud56Dksx/file.html
So far I've put about 6 packs through it and this is the performance I'm seeing:
Next steps will be:
More tuning
Reduce vibrations
Move to Chinook configuration from current Osprey configuration
Install GPS + compass and start using more autonomous flight modes
Install FPV camera and transmitter