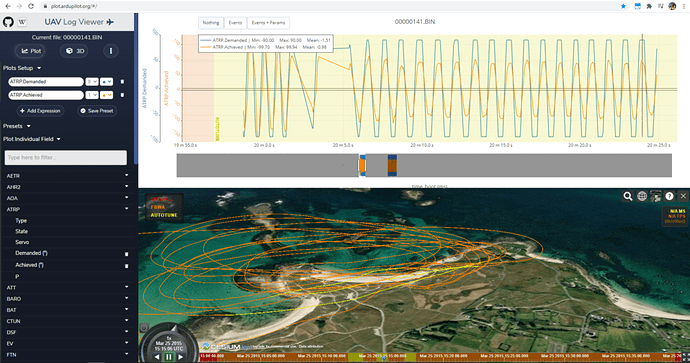 Hi,
I have a Volantex Ranger 1600 and Dart 250g.
On the 2 planes, I have the same behaviour in autotune.
Autotune Level is set to 7 on Dart 250 and 6 on Ranger 1600.
Volantex run on 3s2p li-ion and Dart 250 on 2s1p li-ion.
Ranger 1600 use Matek F405-wing and Dart 250 use Matek H743-slim.
I'm running Yaapu version with CRSF on the 2 planes with DJI FPV Goggle.
As soon as autotune start and I roll back and forth, the achieved roll decrease strongly.
Please, I need help to know what are the parameters I must changer to have a better adequation of this 2 values. I'm a long user of arduplane but never really found how to tune correctly my planes.
I post the log here of the Volantex 1600 40 min flight and the MP parameters.

The video of Volantex 1600 flight is here with autotune session if could help.

I have the exact same behavior with Dart 250 and could send them if anyone interested.
I really appreciate if someone could give some hints on what are are the steps to achieve in order to have a well tune aircraft.
kinds regards,
Jean-Marie