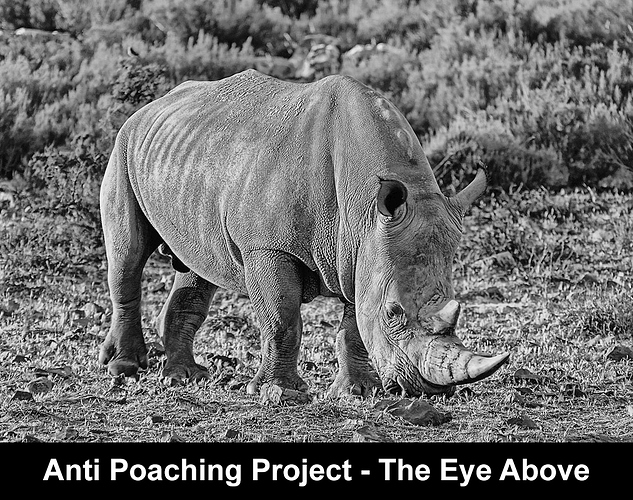 Hi All, it was suggested that I post about a project I am funding where we have designed a long range patrol drone that for use in areas of South Africa where Rhino poaching is affecting private reserves. We have built a quadplane Skywalker x8, with off the shelf components, and we will supply these to local reserves at our cost price.
The scope of the project is as follows.
We have a highly specced patrol UAV that will be able to autonomously identify poachers on the ground via a FLIR camera and a University Deep Learning Project. For phase one we still need to do two things and hopefully members here may know how we can do it which will mean funds can be invested in the project and not programming.
The UAV has a pixhawk 2.1, rasberry Pi3b and intel Movidius stick. What we are going to implement is a hot area into the video frame so that when a contact moves into this area the UAV will do one of 3 things:
Move the Tarot Gimbal to keep the object in frame

If multiple objects move in a manner to preclude a gimbal move, zoom out the camera or if not possible, increase the UAV's altitude.
In addition to this once the contact is confirmed to be a poacher, the UAV needs to loiter around the position and change the centre of loiter as the objects move.
Ok that's the easy part now the hard part.
It can take time for ground assets to respond so we have a 2nd quadplane UAV armed with a dye delivery system. What needs to happen is that we need to allow these to swarm but they need to get continuous GPS updates from the patrol UAV as to the location of its centre of loiter.
Once they arrive on scene they need to use their onboard cameras to move onto target and then loiter while at the same time avoiding each other. EDIT I do realise that this technology can be weaponized but we have committed to the university supplying the detection software that it never will be and in this case it could actually save lives.
Anyone have ideas on an easy way to do this?
Thanks
Robert