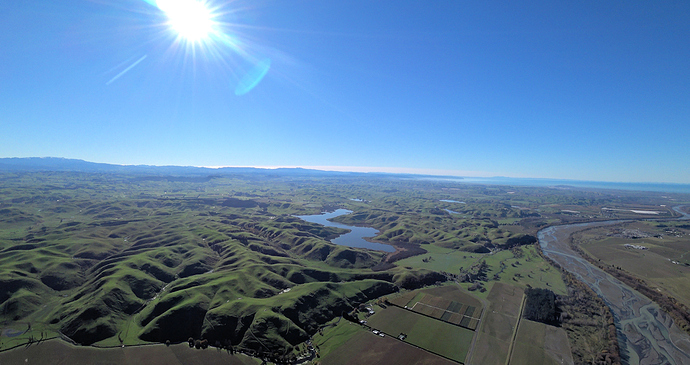 I wanted to try my first mission with a new TR600 Heli with ArduCopter 3.6.0-rc2 and the Pixhawk 2.1 last Saturday.
During earlier tests I changed the EK2_Alt_SOURCE to use my LIDAR only which is nice because it will not be effected by the blades close to the ground ( pressure). After 3 tests I wanted to do my first mission but forgot to change the EK2_ALT_SOURCE back to 0. My WPNAV_SPEED was set to 5.5m per second. The mission was created with different heights per way point. I have done many missions with different aircraft's but never touched the parameter EK2_ALT_SOURCE before. Now what happened:
After way point 5 which was higher than the LIDAR can measure ( about 30m above ground) the Autopilot was waiting for the confirmation of the next way point height. The Baro was disabled and the Lidar out of reach so the Helicopter climbed and climbed at 5.5m p second. The Heli was not moving in X and Y but in Z only.
I found it strange because my highest point of 100m over ground was not in that area where the Heli was at that time. I watched for few seconds and than checked my transmitter, could not find a fault.
When I looked up again I could not find my Helicopter but it was clearly to hear.
I switched to RTL and waited, but it kept climbing. (FS was set finish mission first)
The sound was fading and I immediately looked at my tx again and set my collective pitch to about 45% and changed mode into stabilize. I could here the blades barking instantly. They do that when the Heli gets minus pitch and coming down. Now I was worried that the Heli is coming down to quickly and starts tumbling. So I took my time and a couple of minutes later I could see a tiny Helicopter above me. I managed to get the Heli down safely and about 20meter above ground I switched to RTL and this time it worked and the Heli did a nice auto landing at the spot where he had taken of for his first mission. That lucky outcome took a total of 13 minutes.
The photo above was taken by the onboard camera at 2460 feet above ground, not legal here I know. Not done on purpose.
I will get my new FrSky Horus x10 ready quickly to get my Pixhawk Telemetry onto that big color screen of the transmitter. The laptop in my van ( Arial on the roof) is useless when time is important to react and do the right decision.
Be careful with the EK2_ALT_SOURCE parameter. Make yourself a big note to read your changes and don,t forget like me!!