I have flown around with this Heli yesterday and have still not changed any of your params.
A additional comment to the uploaded camera photo.
For helping me to find any problems during my test flights I mounted a high quality stereo microphone covered up with foam behind the skid arm. The black cable of the mic you can see a bit at the back of the camera. This gimbal has 6 balls and they get pushed down not pulled. The gimbal runs on that 4S battery you can see. The controller is a STorM32-BGC board with 2 IMU,s ( details on his website: http://www.olliw.eu/storm32bgc-v1-wiki/Main_Page ) Olliw is an ex Heli flyer.
This gimbal is an old 2 axis gimbal from HobbyK. now discontinued. I made it myself to a 3 axis gimbal.
My main use of this Heli is for private good quality aerial videos for friends and their friends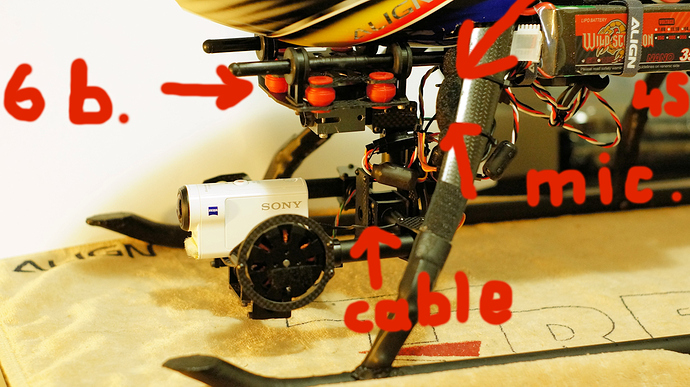 .