Hi there,
While performing experiments to examine the behavior of the attitude closed loop in Arducopter, I found that the attitude reference, in this case a roll input, is not attained properly: there is a steady state offset (see attached figures below). This phenomenon is observed on both of my setups: a DJI F450 and a custom 7 inch quad, both equipped with a Pixhawk Cube Black. In SITL, however, this steady state error is completely absent.
I am providing a step input through mavros from a companion computer (Nvidia Jetson TX2) in guided, and read the roll value through mavros as well. Arducopter version is 3.7.0-dev (https://github.com/unl-nimbus-lab/ardupilot, basically 3.6 but with an added mode to support thrust commands in guided mode, which is not being used in this experiment).
My question is: do you have suggestions to get rid of this phenomenon and have the attitude controller reach the reference? Increasing the gain on the angle controller yields smaller offsets, but large oscillations.
I find it a bit weird that this behavior occurs, as the angle controller should provide an error to the angular velocity loop, which in turn has an integrator in it (I is definitely not set to 0, at the bottom I attached the used .param file), so I would expect it to, at least slowly, converge to the reference.
F450 (for ATC_ANG_RLL_P ranging from 4.5 up to 12):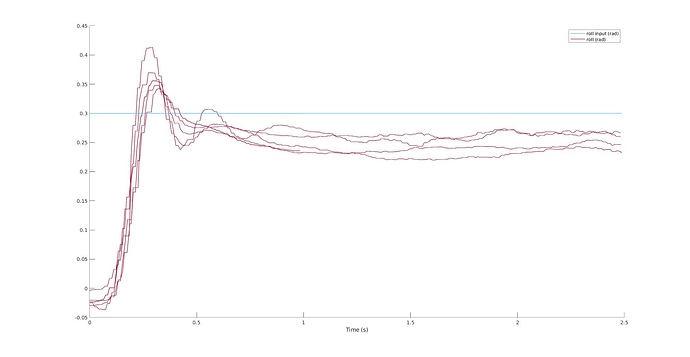 Custom frame (for ATC_ANG_RLL_P ranging from 3 up to 6):
SITL (default):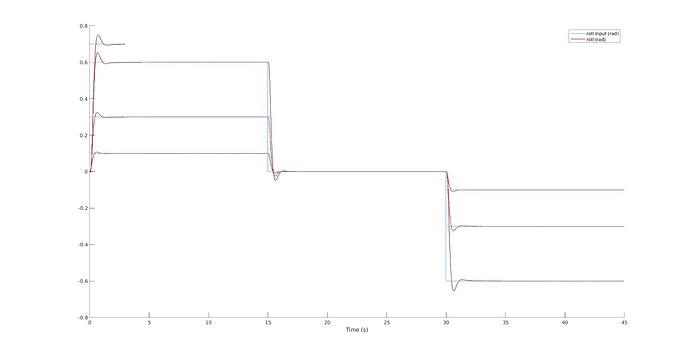 Used parameters on the custom frame:
params.param (14.2 KB)