Hello All,
I had very strange behaviour during auto take-off on Arduplane 4.1.6 running on a Matek F405Wing.
The airframe is a Sonicmodell binary.
The First start
The first start of the day was performed in (auto) TakeOff mode.
This start went completely as expected: shake to start, motors started, airplane gained speed, pitched up and levelled out at the set altitude of 50 Meters. Then I flew the some waypoints and performed some tests for approximately 40 Minutes before landing. The landing was a bit rough but no visible damage, I did a deflection and servo test which also seemed completely fine.
The second failed take-off
After uploading a new mission I performed a shake to start, the engines started, I threw the airplane and the plane flew away gaining speed. But the aircraft did not pitch up but continued to fly in a straight line no real pitch up or down but just straight until it finally hit some bushes about 50Meters away.
The Logs
Looking at the logs I checked for the most obvious data:
Desired Pitch
Estimated Pitch
Pitch servo(4) RCout
AHR2.Pitch
GPS speed
Voltage (checking for sag)
Amperage
V*A to determine the used Wattage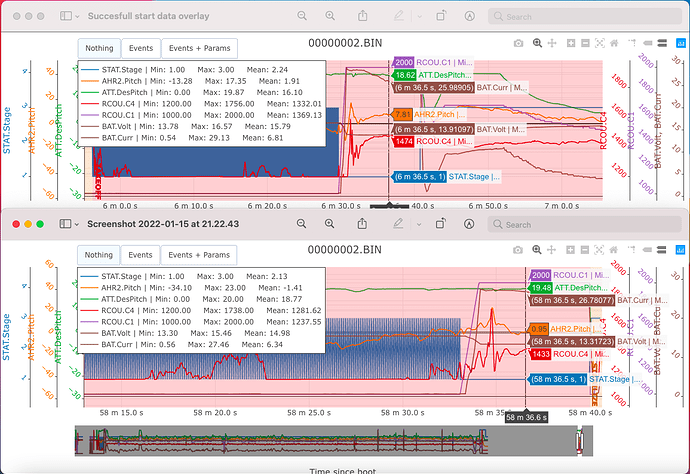 Comparing all these factors both take-offs look pretty much identical. So I cant really explain the lack of pitching up during the second start. Also the power to the motors was almost identical and the recorded gps speed (confirmed visually) was more then sufficient for the airplane to climb.
What am I missing, please help
Hopefully there is somebody here who can examine the logfiles as well and maybe point me in the right direction so I can take care of it so it wont happen again. At the moment Iam still not sure if it is a mistake or a bug.
Link to the logfile: Arduplane logfiles - Google Drive