I am off to learn what the fuss is all about Air Speed Sensors, so I bought few analog ones (as I want to save my I2C), and connected to Pixhawk via ADC port.
As per Ardupilot documentation, Set ARSPD_PIN to 11 and I also set ARSPD_USE to 0.
Inside the MP HUD I Can see AS icon showing speed as 0.00 mph
QUESTIONS:
What is the best way to test the airspeed sensor on the bench?
Inside MP, under Initial Setup and then "Air Speed Sensor", we have following choices inside the drop down menu.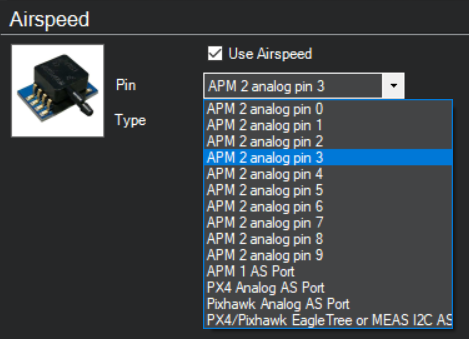 So in My case I should be picking "Pixhawk Analog S Port" which basically sets the parameter value ARSPD_PIin to 11. Type I am selecting Analog, which changes the parameter value ARSPD_USE to 1. Should I change to none? This part is bit confusing.
I did trying blowing air into it as suggested, tried squeezing the tube but I hardly see any changes.
I guess there is no way to test it on the bench till i fly the plane?