Hi,
I'm sending download links to those who asked, if I forgot someone please send me a reminder PM
This is the layout of the test version: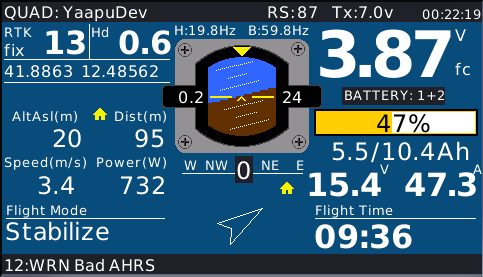 Cheat sheet:
long press [MDL] to enter configuration menu
short press [SYS] to toggle min/max value display
short press [ENTER] (encoder button) to cycle voltage sources
encoder up/down to display mavlink messages
When reporting back success or failure a short video of the script running is usually helpfull, I do not own an Horus so the more feedback I get the better!
EDIT: Please use PM so I can track the feedback better!
EDIT 2: Beta testing is focused on functionality, cosmetic and/or color scheme changes will be addressed once the engine is proofed and functioning
thank you all.