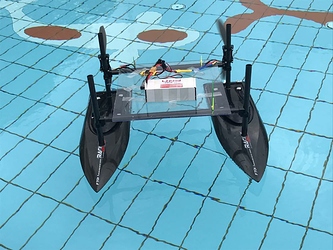 This is my first Ardupilot / Autonomous Project.
I'm doing a project that requires this boat to go to a specific way point for water quality testing/sampling.
This Airboat configuration uses 2 air propelled motors are meant to be a differential thrust.
No servo involved and thrust reversal.
I'm using Pixhawk2.1 . Futaba 10 J , Futaba R2008SB Receiver. Everything works well manually when i plug the motors to the receiver only but not the channels on Pixhawk2.1
Issue # 1
I'm not unsure about how to set the parameter for the motor to function as a differential thrust.
I have tried many times, but the motors behave weirdly.
Need some advice on which version or ArduRover to use and the parameter settings needed.
End Goal
End Goal of this project will require this Airboat to move to the way point autonomously ,and also control manually.
I appreciate any form of help. Thank you very much