I am totally new to rc but have some robotics, linux, and programming experience. I also used to teach a grade school robotics class which I learned a lot from. I came across and acquired a fully functional marcbot iv. At a distance it looks like something complicated but it is basically a glorified rc truck on milspec batteries. As far as I can tell it uses an 9 channel system and has only one channel not in use.
Steering
Throttle
Lights
Parking brake
( empty? )
upper arm
lower arm
Camera pan
Camera tilt
In addition it has a fairly low res video on its own separate receiver antenna.
I believe the main receiver is 72 mhz with pcm and video not sure.
The robot uses 2 24v bb2590 batteries but somewhere in there it takes the voltage down to 15.4v and that goes the esc which is currently a traxxas 16.8v esc attached to a single 550 motor which drives a 4x4 gearbox.
Battery life is effectively a non issue as it has 6 hr drive time on these batteries. In fact the batteries are really the best part of the system it seems.
I have not been able to get an overall idea of what all I need to get this working on autopilot so I figured I would ask for some advice on what autopilot module would be best for this vehicle? I do not have a huge budget but do not mind saving up for the best fit if it is achievable.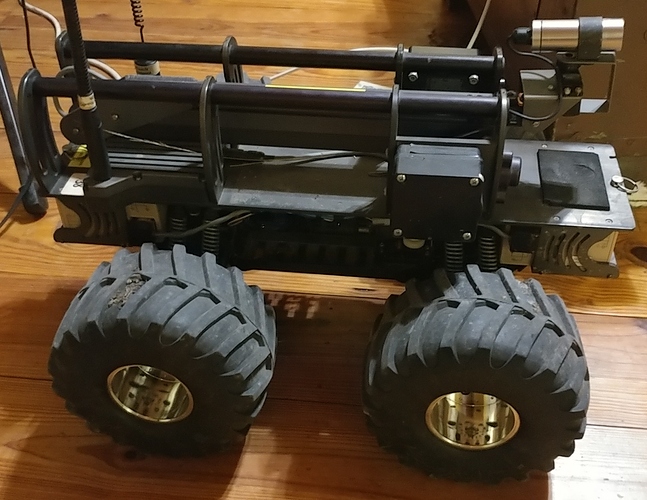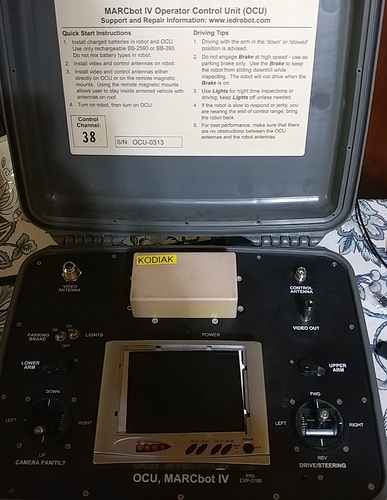 I have read a lot about where to start but I am in analysis paralysis on the first step. Thanks for any advice.