Hello everyone. 3 weeks ago I had posted thread about AUTOTUNE help and advice for 47" 67kg quad. We did auto tune with 0.07 aggressiveness for roll, pitch and 0.1 for yaw without any problem.
VIDEO
https://drive.google.com/file/d/1Nh_DroymdPwHtnHua9MZZlJWZtO-j14N/view?usp=sharing
At first time we had stability problem during yaw command related for MOT_THST_EXPO 0.65
VIDEO
https://drive.google.com/file/d/1N6vqfz2lqhJXYnOOZhvEXDAlkUyxvfzp/view?usp=sharing
With the help of Nikolay (bryashko) we calculated expo value and got 0.25. With 0.25 expo value yaw problem WAS SOLVED. Now the copter flies good in stab, althold modes. In the loiter it flies good in the windless condition. But in the windy condition it begins ossilate when changing to loiter. Here is vidoe:
https://drive.google.com/file/d/1lpdPYvrtYOKx-7IMXGmedQYZE56spM0W/view?usp=sharing
After 2 days we are going to the field to test some parameters again. Nikolay says this problem can be from Rate P and Rate D gain values. I have to play them manualy to eliminate oscillation in the loiter mode at windy condition. Who has any other suggestions for testing in the field?
I aslo played a little bit with Position XY an Velocity XY pids in windy day but nothing changed.
Our parameters:
https://drive.google.com/file/d/1J8DkTgtxMrtA9HrlW42zeRO8JyJR8wjl/view?usp=sharing
Logs windless day
https://drive.google.com/file/d/1n5KpOvQyTv-nsWN7n5bfuiueCdiLE6vX/view?usp=sharing
Logs windy day:
flight No 1
https://drive.google.com/file/d/1GhFX2qu4g95Rt32LVCdIbw_XqBWAUN-O/view?usp=sharing
flight No 2, No 3 and No 4
https://drive.google.com/file/d/1b8ElMFw4OphsamSYTHwogOs1FiP493Bs/view?usp=sharing
Current PID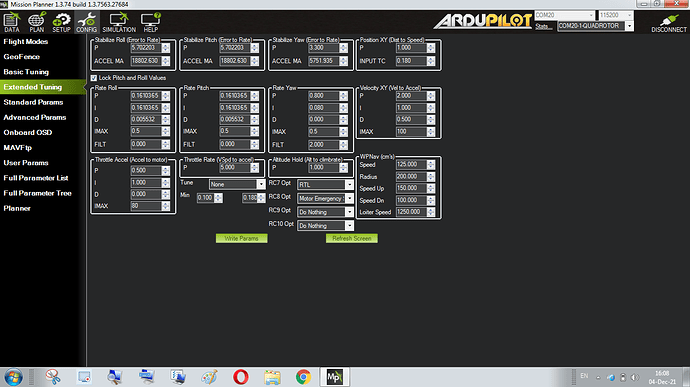 our setup is:
CUAV x7pro with Neo 3 proCurrent PID
220 sm custom made carbon frame and carbon arms
T-motor U15L kv43
T-motor 300A esc
T-motor 47x18 propeller
24S 44000 mah lipo battery
AUW with battery and without payload: 67 kg