Been having an issue with a custom quadcopter build, with the yaw oscillating in particular. The quadcopter is a large build made of square aluminum tubes in an "I" configuration but the engines are placed 2m apart from each other, square. I'm using T-Motor U13Ⅱ KV130, T-Motor FLAME 180A HV ESC and 26x12in, motor,esc,prop combination and a 14s lipo battery.
This a reading from my logs showing desired and current yaw which is very unstable: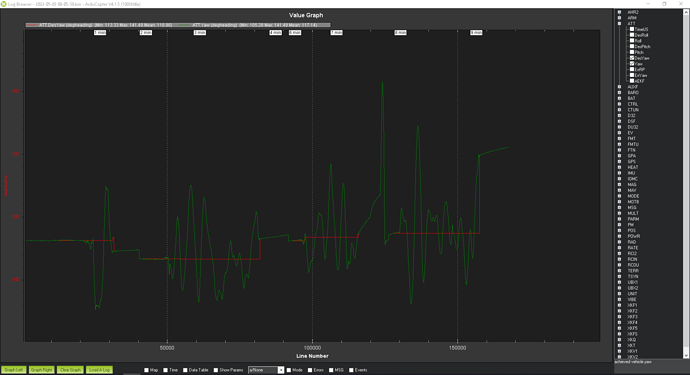 and the pwm values for the engines which appears that the cw and ccw pairs are working against each other: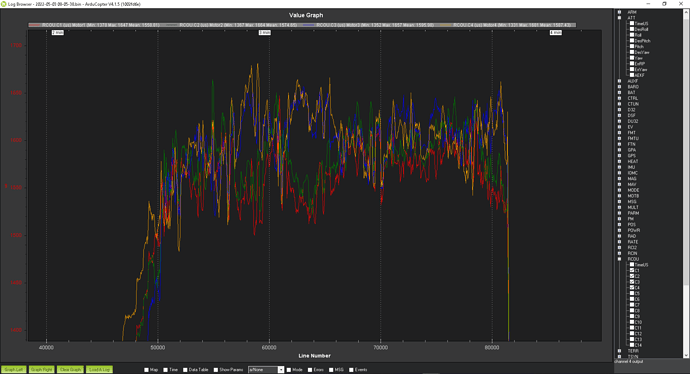 I have tried autotune before but it never finished, I read the messages tab on mission planner and it keeps trying the first process of tuning. I used the initial parameter plugin on mission planner and then after lowering the value for ATC_ANG_YAW_P from 4.5 to 3 and increasing ATC_RAT_YAW_FLTT from 10 to 30 the quadcopter takes off much more stable but tends to yaw when I increase or decrease throttle.
Attached are my log files.
https://drive.google.com/drive/folders/14FFlJjdJC5az2EFIAdLIMPSjw4A65Wz0?usp=sharing
Appreciate any help given.