I am sending vision position estimates to the arducopter over mavlink. The yaw in these messages is constant, yet AHRS.yaw drifts. More importantly, the yaw used by the attitude controller is also drifting during flight.
COMPASS_USE is false
COMPASS_USE2 is false
COMPASS_USE3 is false
COMPASS_ENABLE is false
AHRS_GPS_USE is disabled
GPS_TYPE is none
EK2_GPS_TYPE is 3 (no gps)
the below is while the drone is stationary.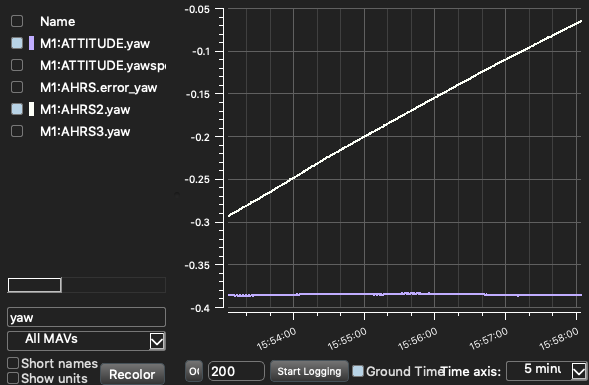 recalibrating the compass seems to help temporarily. I recalibrated it yesterday and again today in the exact same location it is already drifting again. These tests are occurring inside of a metal building where i don't expect the compass to perform super well. That is why i'm supplying attitude and position via vision_position_estimate messages. Is there some other setting I need to change so that the attitude used by the attitude controller is the attitude sent by these vision_position_estimate messages?