Besides the obvious, what is this, and when should it be used? Why not the regular Write WPs button?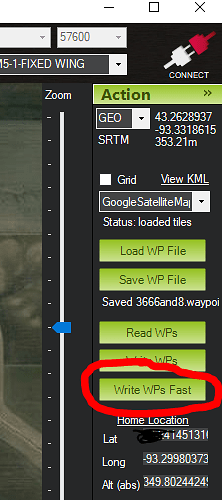 its only in beta and a test. use it how you please. and if it doesn't work report back and use the old button
It works well except that it won't add the waypoints to the flight data screen. That needs to be fixed.
Hi, today I updated to 1.3.59 and found the new Write WPs Fast button. Can't find info on changelog or other site on when should or shouldn't use it.
Thanks!
try it, and report back any issues.
Thanks Michael, I tried it several times and seems to work ok (and faster!). But, as writing the waypoints to my plane is a critical operation (a missing waypoint or command could be catastrophic!), could you please tell me what are the differences, risks, advantages or disadvantages versus the Write WPs button? or where I can find documentation about it?
Thanks again.
the write is still verified, just as it is with the normal write. but over a high loss link I would use the old method. the intent is to speed up writing 500+ wp missions