I'm using a self build setup based on an F330 frame and a Pixhawk 2.4.8. Until recently, it used Extron 2208/34 motors, Extron IQ 20A ESC's and a 3s battery. Also, it is outonomously controlled by an onboard Raspberry Pi running python. It managed to run simple test missions (start, hover in place, land) without any issues. However, I noticed that the servo output (RCOU.C1-4) often capped the maximum value of around 2000, which I interpreted as "propulsion too weak".
So I recently upgraded the setup with Extron 2220/12 motors, Extron IQ30 ESCs and a large 4s battery. Now, when I execute the same hovering test mission, the drone flies way too high (up to 4m though it shoudn't go higher than 1m), wobbles around the roll axis all the time and the servo output is …well, see for yourself: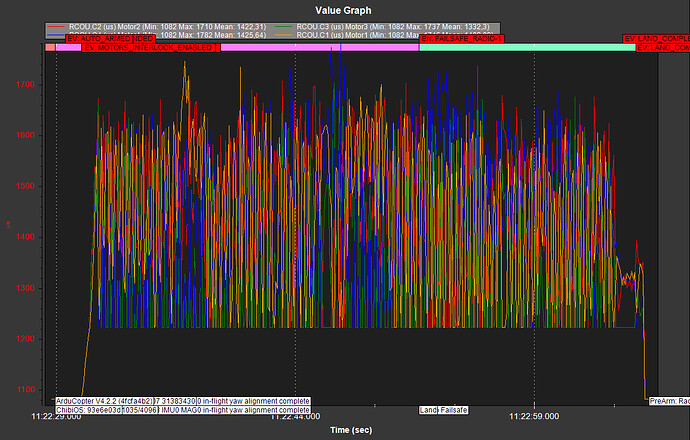 And the complete log for that flight: https://www.dropbox.com/s/lf6947jxa9cuyje/2022-08-19%2011-22-29.bin?dl=0
I calibrated the accelerometer, used the automatic ESC calibration in Mission Planner 1.3.77 and did a compass calibration on the flight site. I did simple PID tuning according to this page, but as not even a simple hovering flight is currently doable, no further tuning was done.
The Pixhawk is mounted on the top of the frame using double sided foam tape. Also, I'm aware that the whole setup currently has an imbalance to the back because of the new battery.
Thanks in advance.