I've been battling with this frustrating problem for months now with different airframes and firmwares. Many thanks to Paul Riseborough who has been assisting and who has added certain patches in an attempt to fix this but we've not yet been able to get to bottom of the problem so I'm posting here hopefully so we can get further insight into this.
Basically, in Loiter, the APM 2.5's with external compass and GPS on these aircraft (a Super Skysurfer in the case of this tlog) incorrectly senses the pitch attitude at a latter point of the Loiter. The plane dives loosing altitude and speeds up while it is actually sensing that it is pitching up. We've not had a crash yet but it's a very real possibility.
This picture from the tlog below shows an instance of this anomaly.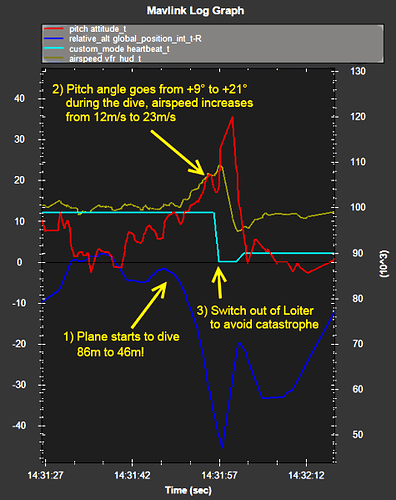 This tlog shows at least two occurrences: dl.dropboxusercontent.com/u/214 … 19-23.tlog,
Droneshare here: droneshare.com/view/bdya5il
So WHY does the APM think the plane is pitching UP when it is visually pitching DOWN and is evidenced by the loss in altitude and increase in airspeed? It doesn't happen on every flight or every loiter and seems exacerbated by a bit of wind blowing.
Motor is a high quality T-Motor and the prop is a balanced APC-E 12x6. Vibrations are almost absent.
We had the same problem with the X8 wings we tested with more dramatic loss of height and increase of speed so much so that we abandoned the X8's, now we have the same problem with the SSS's.
We've changed the APM, the GPS, the motor
Any help will be greatly appreciated!