I've installed my wheel encoders on my robot and am starting to set parameters per the wiki page on wheel encoders. I did not have much success this evening. I encountered a few issues:
My rpm1 and rpm2 values are all over the place. I started with my robot up on chocks and driving both at a very slow speed and the rpm1 and rpm2 values matched each other pretty well, but went randomly negative and positive the whole time.

Sometimes when I increased the throttle too much, the wheels would "lock up" and stay at that speed. Mission planner status values would turn static. If I disarmed and rearmed the Pixhawk, things would turn responsive again.

Randomly I would get a "Bad Logging" error. I took the SD card out and reformatted it (lost a bunch of logs in the process, I'm a fool for not saving them) but still got the error. However, I think I was logging the whole time with that message. I'm not sure though.
Relevant parameters:
EK3_WENC_VERR = 0.1
WENC_CPR = 28800
WENC_PINA = 55
WENC_PINB = 54
WENC_POS_X = 0.08
WENC_POS_Y = -0.249
WENC_POS_Z = 0
WENC_RADIUS = 0.127
WENC_TYPE = 1
WENC2_CPR = 28800
WENC2_PINA = 53
WENC2_PINB = 52
WENC2_POS_X = 0.08
WENC2_POS_Y = 0.249
WENC2_POS_Z = 0
WENC2_RADIUS = 0.127
WENC2_TYPE = 1
BRD_PWM_COUNT = 2
EK3_ENABLE = 1
EK2_ENABLE = 0
AHRS_EKF_TYPE = 3
Graph of rpm1 and rpm2: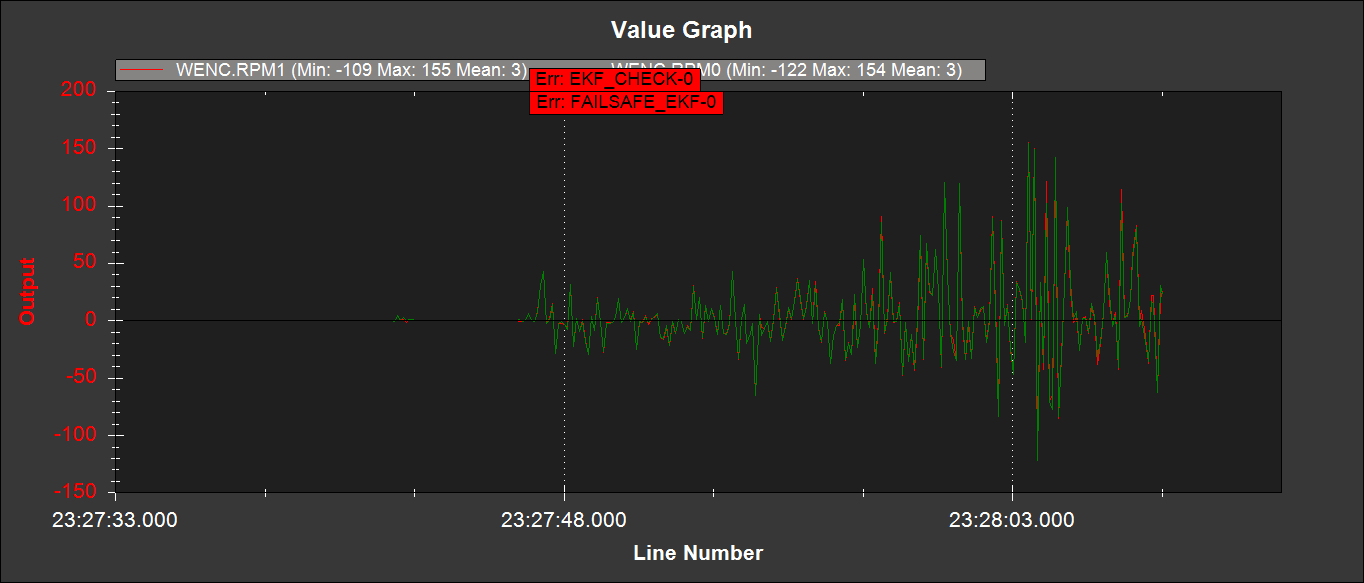 Bin file here.
Any ideas on why the rpm readings are so erratic?