Hi team.
Not sure if this is right place, but I've been dabbling with Pixhawk to make my own Quad. While the basics worked for me i.e. takeoff flight & the FPV system, I wanted to move next step and start adding sensonr units to Pixhawk.
My plan is to add 10 rangefinders for 360degree, but wanted to start with one at a time and scale it up. The Rangefinders I've handy with me are:
VL53L1X (I2C) - x1 (ST VL53L0X / VL53L1X Lidar — Copter documentation)
VL52L0X (I2C) - x2 (ST VL53L0X / VL53L1X Lidar — Copter documentation)
HC-SR04 (GPIO) - x2 (HC-SR04 Sonar Rangefinder — Copter documentation)
Maxbotrix 1040 (Serial) - x1 (Maxbotix Analog Sonar — Copter documentation / Interfacing Ultrasonic Sensors with a Pixhawk or Ardupilot Mega (APM))
I followed the instructions as linked above, have been rechecking my wirings since 2-3 days now, but no matter which range finder I use, with whichever port, Mission Planner can't detect any rangefinder & readings are always 0.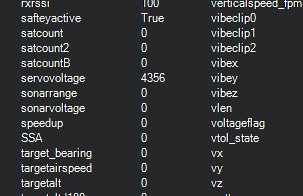 I tried following combinations of connections:
VL53L0X & VL53L1X (one at a time) : Directly to i2C, didn't work. Via i2c hub, didn't work but other devices connected to hub ( SSD1306/GPS) worked.
Maxbotrix Sonar to ADC 3.3V port, didn't work.
HC-SR04: Without Logic Level shifter, on Aux 5 & 6 (With Pins as 54 & 55) didn't work. With logic shifter on diff aux pins (In case pin 4 & 5 are fried and changing params) also didn't work.
I also verified to remove faulty sensor scenrio, by testing VL53L0X and HC-SR-04 after testing on Pixhawk, and am able to get readings in raspberry pi, so wanted to know what possibly is wrong.
Since this is my 1st time post, if any follow up documents, pictures, wire diagrams etc are required do let me know I can add to the post.
Thanks for help in advance,