I seem to have the classic live calibration problem explained online, but none of the solutions so far are working for me.
PROBLEM:
I am using an APM 2.8 running Copter v3.2.1(EDIT 1) with a Chinese GPS and compass module called Neo 7M powered by Ublox. The GPS works fine, however, the pre-arm checks give me a bad compass/mag field warning. When I try to live calibrate the compass, the calibrator just gets stuck after collecting about 3 - 10 samples. It says 'compass 1 error: 99'. Also, it shows only a single compass that I have selected to be externally mounted although I know APM 2.8 has an internal magnetometer too. I have so far been unable to live calibrate the external compass.
What I have tried so far:
I have removed the MAG jumper beside the GPS port, EDIT 1: set the orientation at ROLL_180.
Yes, I am plugging the magnetometer wire to the port below the GPS port(APM 2.8)
I have tried soldering the MUX_SCL and MUX_SDA points behind the board and tried using the I2C port after that. Same results.
I have tried downgrading the Mission Planner software and doing the calibration on previous versions to no avail.
I have also tried setting the EXTERNAL_COMPASS parameter to '2' so as to enable forced use of the external compass but sadly, no improvements.
EDIT 1: 6. I have also tried swapping the magnetometer SCL and SDA wires.
Its been weeks and I seem to have come to a dead end. Please help! Any suggestions are welcome. Thanks in advance guys. I am attaching a picture below showing the wiring.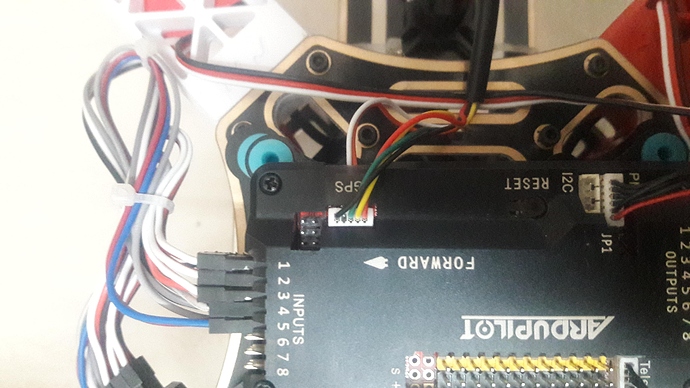 EDIT 2: So I checked out my log file and here's what I got:
Log File C:\Users\User\AppData\Local\Temp\tmp8808.tmp.log
Size (kb) 28.7685546875
No of lines 658
Duration 0:00:00
Vehicletype ArduCopter
Firmware Version V3.2.1
Firmware Hash 36b405fb
Hardware Type
Free Mem 0
Skipped Lines 0
Test: Autotune = UNKNOWN - No ATUN log data
Test: Brownout = GOOD -
Test: Compass = GOOD - No MAG data, unable to test mag_field interference
Test: Dupe Log Data = GOOD -
Test: Empty = GOOD -
Test: Event/Failsafe = GOOD -
Test: GPS = FAIL - Min satellites: 0, Max HDop: 99.99
Test: IMU Mismatch = UNKNOWN - No IMU log data
Test: Motor Balance = UNKNOWN -
Test: NaNs = GOOD -
Test: OpticalFlow = FAIL - 'FLOW_FXSCALER' not found
Test: Parameters = GOOD -
Test: PM = GOOD -
Test: Pitch/Roll = GOOD -
Test: Thrust = GOOD -
Test: VCC = GOOD -
The GPS failure is fine as I was indoors in a place with low connectivity. The usually get a 3D lock outdoors as I have tested it out. Any idea why the 'Test: Compass = GOOD - No MAG data, unable to test mag_field interference' message is popping up? Thanks!