Dear TradHeli Community,
Our team has been developing a 800 Size UAV Helicopter base on CubeOrange autopilot and 2 Here3 GPS via UAVCAN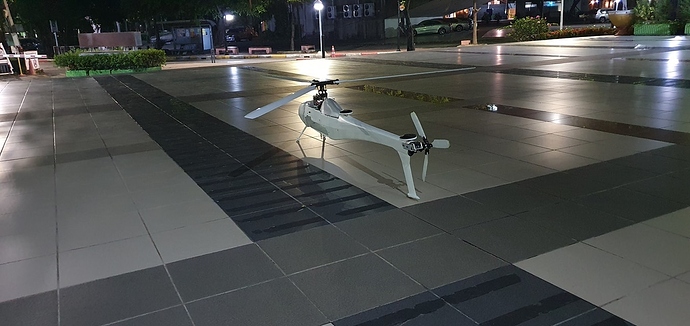 We have setup the systems on two of our Helicopters with CubeOrange+V-bar(Flybarless system) They were set up as follow:
Prototype 1.1
FC: Cube Orange+Vbar Neo
GPS1: Here2 via CAN1+CAN distribution board
GPS2: Here2 VIA CAN1+CAN distribution board
RangeFinder: Lightware LW20
Telemetry: RFD900
Firmware: Arducopter TradHeli 4.0.2
Prototype 1.2
FC: Cube Orange+Vbar Neo
GPS1: Here2 via CAN1
GPS2: Here2 VIA CAN2
RangeFinder: Lightware LW20
Telemetry: RFD900
Firmware: Arducopter TradHeli 4.0.5
We skipped Firmware 4.0.3&4.0.4 because of the servo sluggish movement which happen to be fixed on 4.0.5
The tuning take a long time but everything went well and both aircraft become very stable and solid in AltHold and Loiter mode.
We move on into Auto Yet something weird happen. Both aircraft cannot progress into Auto mode once press the switch. The aircrafts will only slowly descend and turn side to side without progressing to the waypoint.
Is there anyone who experience the same issue? Is there any parameter that might affect the Auto mode?
The second issue happened soon after, we experienced high compass variance on our Prototype 1.2(Bar on EKF window reach red level). Therefore, we change our compass priority in the following setup;
FROM:
AK09916 via SPI
HERE3 via UAVCAN
HERE3 via UAVCAN
TO
HERE3 via UAVCAN
HERE3 via UAVCAN
and we disabled internal magneto from Cube Orange
For a while we try to tweak several Navigation Parameter to try that is there any parameter that prevent the Heli from going Auto.
And in one moment while we trying to land the aircraft and call it the day.
The aircraft start spinning and totally losing control, The VBar Neo still keep it flying by help maintaining the attitude. we raise the altitude to prevent it from hitting anything near by and trying to regain control. I(the pilot) switch to Loiter mode from Althold mode hoping it will help kept the aircraft in place. In Loiter mode, the aircraft stop spinning but start traversing randomly at high speed. Like GPS glitch problem, the aircraft start traveling in big circle and moving far away from the test site. At the same time, the operator keep shouting that there is nothing wrong on EKF status but there is some message keep saying "Glitch clear". I try to switch back and forth between AltHold Mode and Loiter Mode with no result the aircraft keep spinning in AltHold Mode and traveling in circle in Loiter mode. Then the aircraft move far away enough from the RC controller, it changed to RTL mode, Still it keep traveling in circle. From all the fluctuation the aircraft keep losing altitude and lost connection.
I would love to share the Flight Log if somehow our aircraft come back to us.
We suspect that the UAVCAN might be the main culprit, since the symptoms is like we are losing both GPSs and Magnetos at the same time plus we disable internal magneto(which we might never do that again, ever). Is there anyone have similar issue before?
The last known working perfectly well firmware we have tested was Arduheli 3.9.11 with L1, we are force to change to Arducopter Tradheli 4.0.2 and 4.0.5 despite all the obvious bug(like sluggish servo movement in 4.0.3 and 4.0.4). Sadly, Arduheli we have, support only Cube Black and we kinda miss it.
Ps. Everything happen in the span of 15 seconds and it feels like 15 years of my life has gone down the drain.
Ps2. We drive around the neighborhood for hours to make sure that our missing heli(weight 8 kg) did not hit anyone or anything. Luckily, seems like it is just disappear.