@ChrisOlson and I have been working on an improvement to the Mode 3 V throttle curve for the Rotor Speed Control. This Mode was intended for users that wanted to have a 3D heli set up but did not have a rotor governor. The current mode 3 was a linear interpolation between the points based on collective position. This is mode was very basic and was not that ideal for even 3D set ups.
After talking with Chris, it was felt that a 5 point curve with a cubic spline interpolation, similar to nearly all RC Heli transmitters, would be sufficient to provide the necessary throttle response. This would be versatile for any heli set up requiring a throttle curve, which includes some governors as well. This would also be able to replace the Mode 2 set point set up since users can just set up a flat throttle curve at the set point value. The new 5 point throttle curve would be very intuitive for virtually any heli pilot since it mimics how they setup the throttle curve in their transmitter.
The three parameters for the existing mode 3 set up, H_RSC_POWER_LOW, H_RSC_POWER_HIGH, and H_RSC_POWER_NEGC are replaced by the 5 parameters for the 5 point curve which are: H_RSC_THRCRV_0, H_RSC_THRCRV_25, H_RSC_THRCRV_50, H_RSC_THRCRV_75, and H_RSC_THRCRV_100.
The code uses the throttle_in, which is the collective pitch setting for tradheli, sent to the motors class and sets the throttle out to the main rotor RSC servo based on the spline interpolation of the 5 point curve. Here are some examples. The joystick position would be the collective pitch settting between 0 and 100 percent and the output position would be the servo position to the motor or ESC.
Typical UAV throttle curve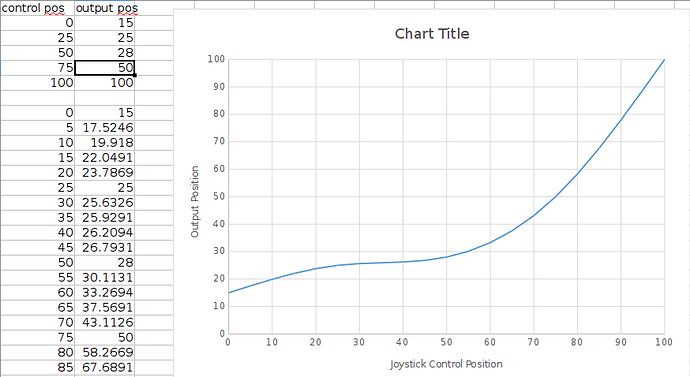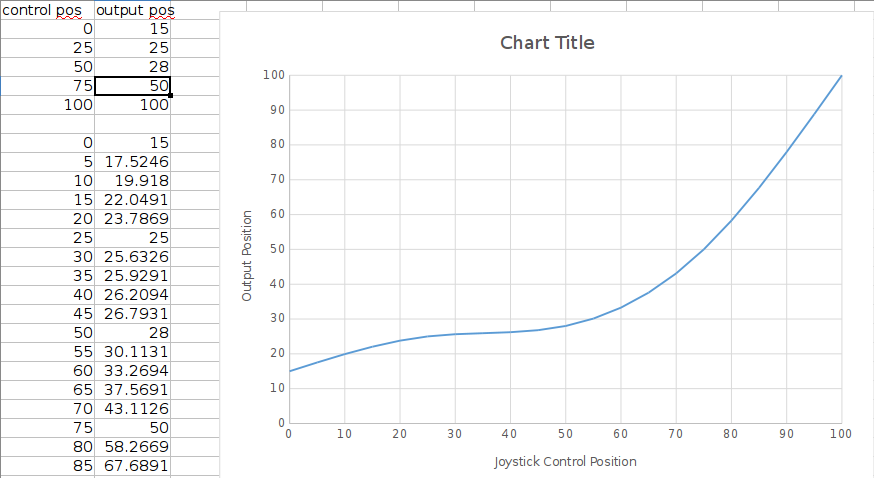 Typical 3D throttle curve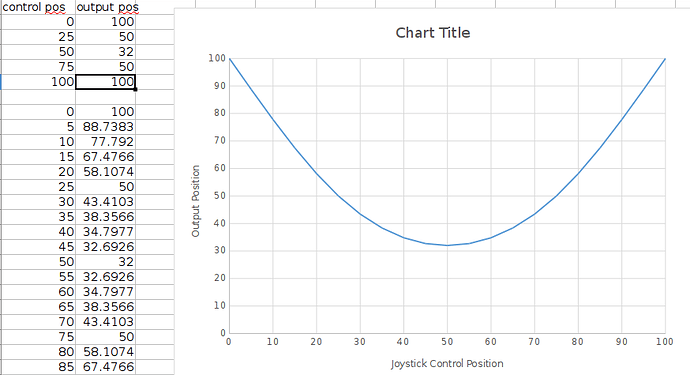 Here is the link to my respository with the change implemented in 3.5.5.
https://github.com/bnsgeyer/ardupilot/tree/spline
@ChrisOlson has compiled, loaded and tested this change. I'll let him discuss the results of his tests.