Hello. I am very new to Mission Planner so I have couple of questions to setup my VTOL aircraft.
Firstly, my project is a tilt rotor quadplane which two front motors are tilting. I use Pixhawk PX4 for this project and I have Turnigy 9x as my transmitter. Up until now I could run my motors and servos with throttle, aileron etc. setup at servo output page. But I couldn't setup it as a VTOL and I couldn't run my motors as drone mode.
This is the Pixhawk I am using:

These are the parameters that I changed:


Here are the questions: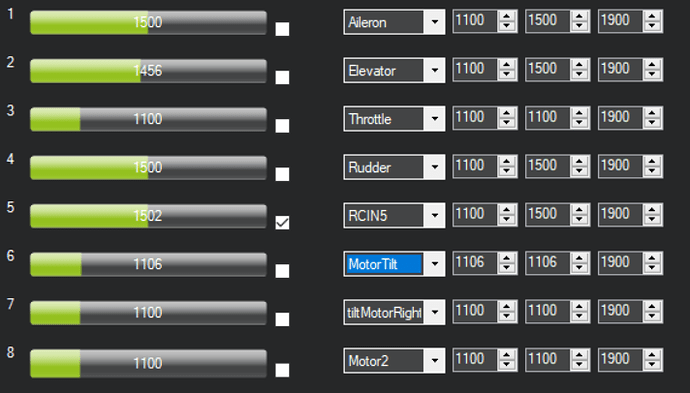 I couldn't understand where to connect my motors at PixHawk or how I setup channels in servo output page (Shown in above). I tried couple of things but I couldn't figure it out.
How I setup my tilt rotors servos and what output should I connect at Pixhawk. I could manually control them from Auxillary channel but I couldn't understand how it works in firmware.
These are the fundamental problems that I stucked and couldn't move on. I hope I have explained myself clearly. If you help me out I would be very thankfull.