Hi,
I am running using Ardupilot 3.5.1 on a PX4 to control a boat. I am controlling the boat in guided mode with velocity control.
For the most part everything works. Occasionally however, I have seen the throttle ramp up uncontrollably. Looking through the flash logs I have identified 2 separate issue that appear to be causing the throttle ramp up.
ISSUE 1 - THR.Speed DOES NOT MATCH GPS.Spd
During normal operation, the logs report that THR.Spd is the same as GPS.Spd. However, occasionally, the actual speed (as shown by GPS.Speed) runs wild while the THR.Spd reads a lower value which the throttle control loop successfully locks to.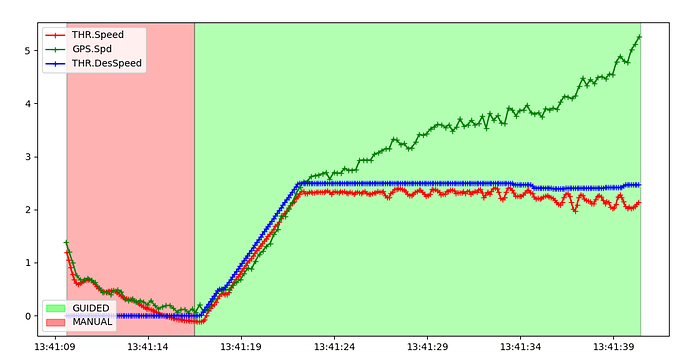 Questions:
Has anyone seen this issue happening before ?
What is the connection between GPS.Speed and THR.Speed ?
Is this a bug which needs to be fixed ?
ISSUE 2 - THR.DesSpeed DOES NOT MATCH GUIDED VELOCITY
When this problem occurs, the throttle control loop stays locked to guided GUID.vX, suddenly, the
speed ramps as THR.DesSpeed increases in value while GUID.vX remains constant.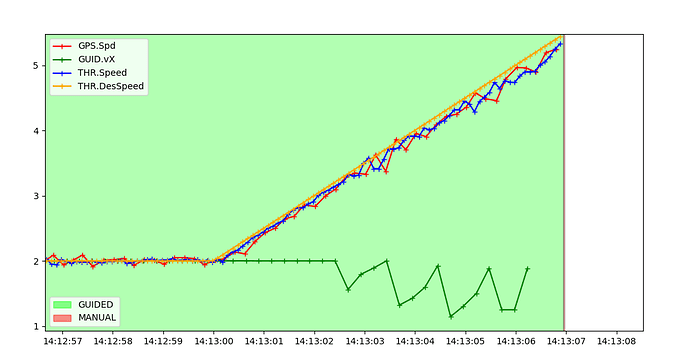 The ramping is most likely do to the acceleration limit we placed on the vehicle. It appears that whatever setpoint is effecting THR.DesSpeed has jumped to an arbitrary high amount and that the boat is attempting to ramp to that level. Note that this appears to be more likely to happen when the boat is traveling in tight (approx 5 meter diameter) circles.
Question:
Again, anyone seen this before ?
What is the connection between GUID.vX and THR.DesSpeed ?
Is this a bug which needs to be fixed ?