I'm pulling together my 2nd build with Pixhawk 2.4.8 Version 4.2.0 and SimonK30 Amp speed controllers. I can arm the drone but the throttle PWM values won't pass through to the motor outputs. They sit stubbornly a 0 PWM. If I change the servo output to RCIN3 then the throttle PWM does pass through the FC. Why won't it pass through with Motor1,2,3&4 selected?
Radio has a calibrated fine and FC sees correct and normal radio values and motors spin ok with RCIN3 selected instead.
See 2 setups below with outputs:
Problem - Throttle PWM is 0 for all 4 motors


RCIN3 Passes through ok: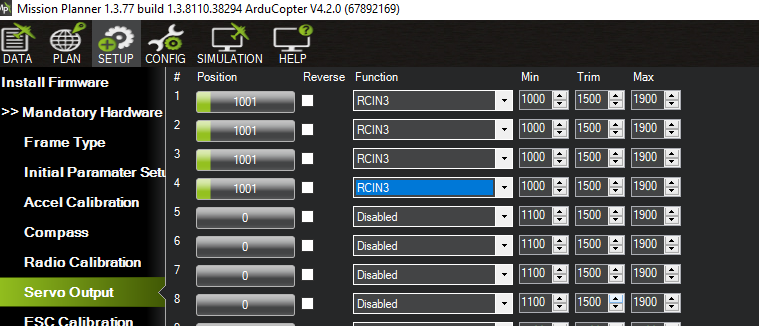 Have I forgotten to set up something? or is there a safety parameter that is stopping it from running? The safety switch I disabled and the copter arms ok.