Testing of the aircraft with the HOLYBRO DURANDAL flight controller for resistance to large vibrations. I didn't use notched filters to find out how dangerous it is to fly with large vibrations. There were reports of EKF work, but the plane did not crash. After this flight, I will improve the vibration isolation and apply dynamic harmonic notches with an engine speed sensor.
I would be grateful for advice on improving vibration resistance from users of aircraft with an internal combustion engine.
Trener DOMINO SIZE .46-.55 GP/EP SCALE 1:6 ARF, Holybro Durandal FW 4.2.0 ARDUPLANE,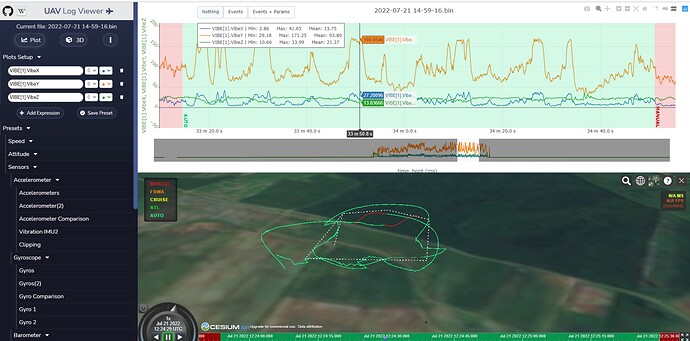 engine OSMAX FS62V.
Testing trener DOMINO, Holybro DURANDAL and Internal Combustion Engines (ICE) - YouTube
I have a question for the developers. Can this dynamic harmonic notches feature eliminate the effects of the strong vibration that is shown on the UAV LOG VIEWER chart? Managing Gyro Noise with the Dynamic Harmonic Notch Filters — Plane documentation (ardupilot.org)