@smartdave @dkemxr @Marc_Dornan
I am sort of new to Open Tx and Taranis and trying to get a better understanding on few things how they work together.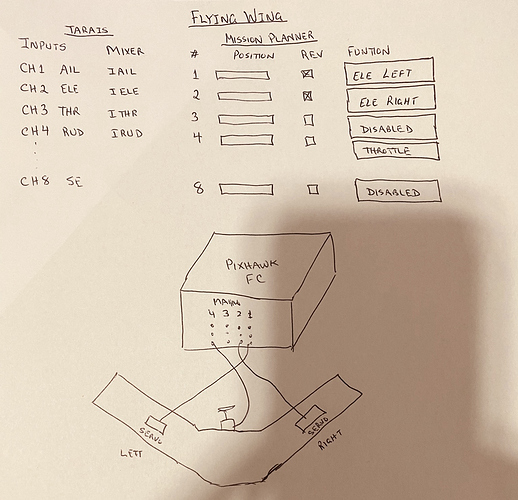 The above diagram and setup works, however a number of things are very confusing.
Main-out Pin 1 has left servo connected to it.
Main-out Pin 2 has right servo connected to it.
Main-out Pin 4 has ESC for thrust motor.
No matter what you do, if I want Thrust motor to be connected to main Out -3, FC will not allow you to do that. Is it hard coded in the Plane firmware that one must use main Out 4?
What also confuses me is the servo output section inside mission planner.
How it correlates to what you set inside Taranis radio inputs and Mixer? "Or" the servo out section in MP is actually a mixer itself and you don't need to do any mixing inside the Taranis radio?
if that is the case why in Ardupilot documentation is says, for wing plane you must use Pins 1,2, 4 and set;
SERVO1_FUNCTION = 77
SERVO2_FUNCTION = 78
SERVO3_FUNCTION =70
But the motor only works off Main out Pin 4, so then why the documentation is suggesting using SERVO3_FUNCTION for motor?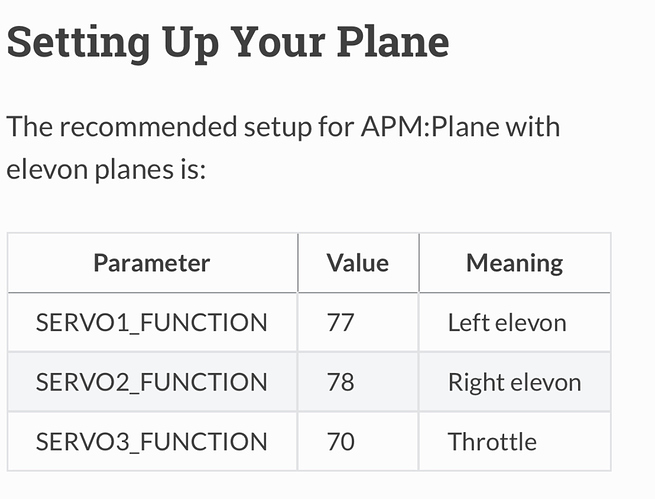 Very confusing. Does anyone update these documentation with easy to follow instructions…