I've been testing and tuning a new quad. I was testing it in windy conditions the other day, a 15-20mph wind with 25mph gusts. I wanted to see how it would handle the wind. It was in Loiter most of the time, maybe 10 feet in front of me and 10-15 feet up. It kept it pointing mostly into the wind but I tried some different yaw positions to see how it reacted.
It seemed like it was doing well (subjective because I don't really know how stable it should be!). At one point, it did a sudden and drastic pitch/roll where I thought it was going to flip and crash! But, less than a second later, it recovered and continued as before.
My question is, what happened? Was it a sudden gust of wind? If so, I didn't feel it and I was standing right there in the middle of a park with the ship 10 feet away from me. There were some pretty strong gusts during the test but the ship seemed to handle them fine. What else could have happened?
The entire test was 30 minutes. I made a note the drastic pitch/roll happened just after 21 minutes. Sure enough, it shows in the log: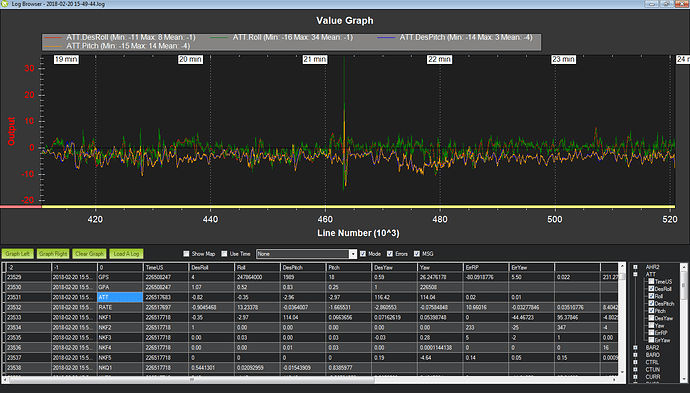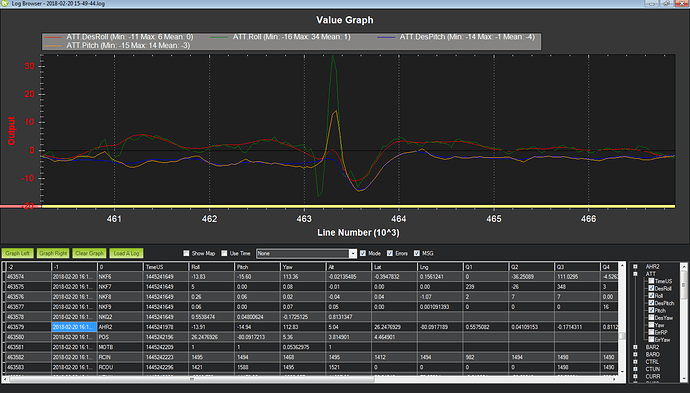 I'd really like to know what to look for, what I can check, and so on. Also, I think anything learned here may help others. I will include a link to the log.
Specs:
Pixhawk2 Cube
Tmotor AIR 40A Escs and MN3508-29 380kv motors
Tmotor 15x5 CF props
Thanks,
Robert