Running a simple Qplane mission: VTOL takeoff, proceed to a waypoint, then another, then proceed to a LOITER_TIME waypoint hovering in copter mode since Q_GUIDED_MODE is enabled, then proceed to yet another waypoint, and RTL.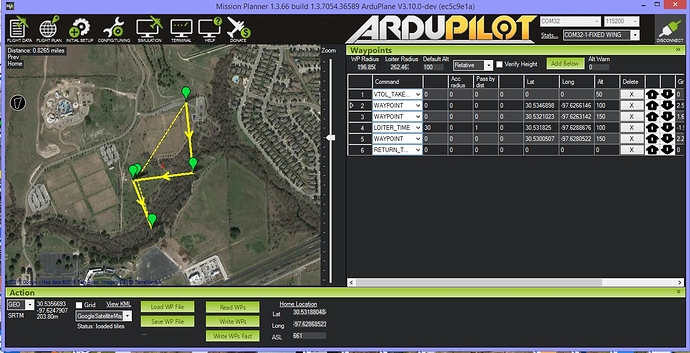 The mission proceeds fine, turns at the first waypoint maintaining altitude thru the turn, then proceeds to the waypoint before the LOITER_TIME, climbing to that waypoints target altitude (doesn't quite get there)…but as it reaches it and begins to turn to the LOITER_TIME waypoint it drastically drops in altitude (to ~60feet) instead of smoothly beginning to transition from 150 feet to 100 feet…in addition, as the transition occurs, throttle momentarily completely goes to idle and then surges back…this throttle glitch also occurs as it transitions back to plane mode to fly away from the LOITER_TIME waypoint…very dramatic…
Questions:
Why the radical (and dangerous) altitude drop and recovery as it turn to the LOITER_TIME waypoint? In the log you can see that the unused Qplane alt target is at that low value, and moves to the LOITER waypoint altitude…the plane recovers altitude at that point…its almost like the alt target is set before the transition is completer…actually at the crossing of the waypoint radius since altitude loss begins dramatically as the turn begins…
Why the massive glitch in motor power on transitions?
log is here: https://www.dropbox.com/s/q6hnsz3869hr42l/Qplane_Mission.BIN?dl=0
video is here: https://youtu.be/wcJUWRoFAmQ