Hi all.
I'm building a 6 inch quad and I'm experiencing some interferences from my CADDX VISTA affecting my GPS.
This has been a long nightmare, with a lot of trial and error moving the antenna and GPS as far as possible, but with no luck till today. Maybe someone on the same page can share how to overcome this issue with their own build.
On the attached log file you may see that a EKF failsafe is triggered after a GPS glitch while flying in ALTITUDE HOLD.
My issue is that this failsafe makes my quad unflyable, crazily moving towards a direction and barely not reacting to my sticks commands.
From my humble opinion seems that the quad is trying to move to the incorrect received GPS position or reacting somehow to the EKF failsafe, but I cannot understand how is this possible while flying in ALTITUDE HOLD, where the GPS should not be used by the EKF engine, even worst in case of a failsafe.
If this happens in ALTITUDE HOLD, I'm almost sure it will happen in STABILIZE mode.
Maybe my though is completely wrong and so:
Can someone understand the behaviour of the quad and how far from reality is my though?
If my though is somehow correct, would a second GPS help on avoiding GPS glitches and this behaviour?
Does someone face the same issue with the CADDX VISTA interference and any ideas how to overcome the issue?
Currently my GPS is 15 cm way from TX and antenna (a TBS antenna), which are installed at the front of the quad, and the GPS is at the rear.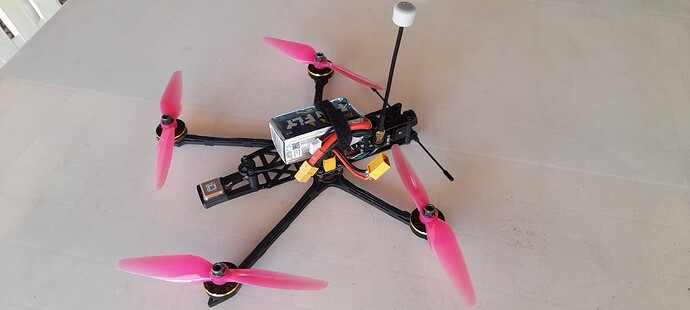 My setup:
Arducopter V4.2.2
Frame: Rekon 6 with custom parts
GPS: matek gps m8q-5883
FC: goku f745 aio
RC: Crossfire nano SE
Motors: T-Motor F2203.5 KV1500
Video: CADDX VISTA with Polar Starlight camera + TBS Triumph Pro antenna
Thank you.
Tiago
2022-08-18 14-09-47.zip (624.2 KB)