I was happily setting up a Traditional Heli, using an mRo R15 PicRACER, ArduCopter v.3.6.12 and QGC. Everything acted as expected.
After updating to ArduCopter V. 4.0.0 stable - found that neither QGC nor MP software recognized my DX8 radio signals coming thru a Spektrum SPM4648 receiver. I received an error message that 0 Channels were coming through and 5 were needed "with PX4". Note - I am using the current ArduCopter-ChiBios flight stack - NOT the PX4 stack. For giggles…tried the PX4 flight stack and even tried Nuttx. Everything loaded normally, but radio signals are not acknowledged by the MP/QGC software. Screenshots attached.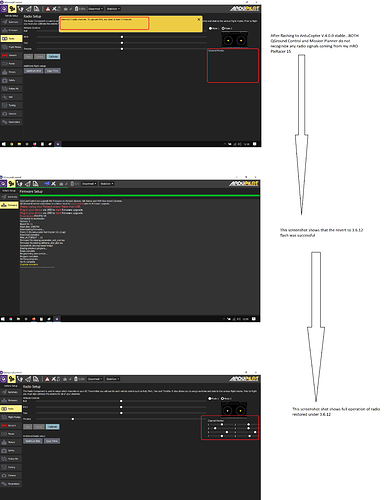 I down-graded back to 3.6.12 and the signals were recognized again using QGC Radio Calibrate as the signal indicator. I did this upgrade a second time…and the results were the same…so now I'm back to 3.6.12 until a fix for v. 4.0 can be had.
Does anyone have an explanation/advice?